Interview with Maneesh Bahuguna, the driving force behind AMHC – the next sporting revolution of the country!
1.69K //
06 Feb 2013, 12:13 IST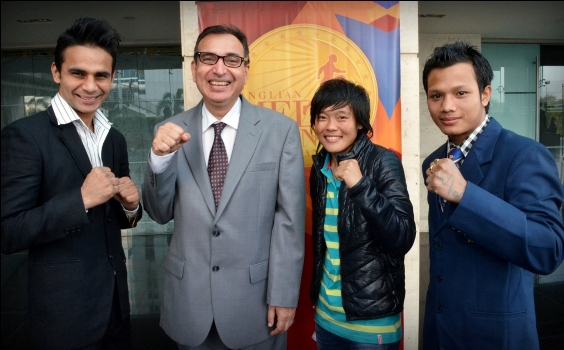 Anglian Medal-Hunt Company (AMHC) seeks to nurture young talent in the arena of Olympic sports and beyond. They look to attain this by facilitating the training, procurement of equipment and international exposure required by the athletes.
Recently, they've signed four Indian boxers – Sumit Sangwan, Gaurav Bidhuri, Devendro Singh and Sarjubal Devi – to add to their previous 3 signings that were completed a few weeks ago.
Sportskeeda had chance to discuss various facets of this fascinating initiative to boost India's prospects on the Olympic front with AMHC CEO, Maneesh Bahuguna. Here are some excerpts from the conversation:
Thinking about implementing something as significant as AMHC, would've required a visionary with a pragmatic approach. Where did it all actually start from (The idea of developing a venture as AMHC)?
Yes, it is certainly a long-term concept and does require some bold thinking, as from the investor's perspective the return on investment is not based on any known numbers. A passion for the sport, the plight of the athletes and a desire to see them excel at the highest platforms of sporting excellence are the real motivators. Having said that, I sincerely believe that there is a lot of commercial value to be unlocked in sporting disciplines outside of cricket, and corporate backing is just a step away.
 The idea behind Anglian Medal Hunt Company is precisely this: to ensure that talent is identified early and supported in every which way so that the athletes have access to facilities that are on par with the best in the world. This kind of unconditional support would go a long way in developing the necessary physical and mental conditioning required to perform under pressure at international events.
I have always been a passionate follower of the India story at the Olympic games, and this time around I started a Facebook page called "Support India At the London Olympics 2012" which was well received, and in addition I got to see most of the Indian participation at the London games, which led  to the conceptualizing of AMHC. For me, the work being done by Olympic Gold Quest was a huge inspiration, and if not for the tremendous support of Geet Sethi, we would not have come so far.
How difficult was it to lure investors in surfacing the initial AMHC plans? Was there any initial skepticism involved in the decision-making?
Sunny and Uday Narang, who are the promoters of the Anglian group of businesses, and Peter Vaz, owner of the Models group (three of our multiple investors), are existing owners of football clubs and understand sports management in India. However, Olympic disciplines were a different story and it did take a bit of convincing. Sunny was rock solid in his support and brought in all the investors. Actually it is incredible that we managed to put it all together in under 3 months.
You have already signed 7 athletes and two coaches in the past few weeks. How is the right talent recognized/selected by AMHC? What are the prime selection pointers before selecting any athlete?
We have a research and analytics team which goes into several metrics which include tangibles like recent performance, rankings, timings, worldwide competition, age, weight, height, combined with intangibles like  an assessment of  the ability to handle adverse conditions under pressure, consistency, etc . I personally oversee this process as we cannot afford to make a mistake here.
What are the various aspects of an athlete's professional life that AMHC would be able to assist them with? Are we looking AMHC to be a one-stop-centre for assistance for the players?
Nutrition through dietary supplements, off camp coaching, quality kits ,injury insurance, physiotherapy , monthly stipends, annual foreign trip either for training or a competitive event. In short, whatever it takes, and by the way, we have 5 year contracts with these athletes, which is a first. We therefore complement the federations wherever we can.
You have been actively associated with the well revered OGQ initiative that boosted 4 medal winners ahead of the London Games. Considering you both follow a similar set of objectives, we'd like to know what makes AMHC something completely different than OGQ?
Almost similar in style, but there is a significant departure in the business modeling. Whereas OGQ is completely non-profit, in our case, we have a sustainable model of growth based on the marketing potential these sports have and which we intend to tap into.
On the long-term medal aspirations and making our country a force to reckon with at major events like the Olympics and Asian games, are you looking foster young talent from the grass root levels of Indian sports?
Absolutely, you will soon see us signing even 13 -14 year olds.
For most of budding sports enthusiasts, excelling in academics is also becoming equally important as growing as an athlete. Would you be encouraging them to focus on both fronts?
Most of our athletes are training at camps which are being organized by the Sports Authority of India. For school going children, SAI does undertake various programs which help them in pursuing their academics, which we intend to fully support. We believe that education is an important ingredient in developing the personality of these athletes.
Have you been in process of developing training centres for the athletes? Are you looking to focus on particular sports for starters? Or will it be facilitating a variety of sports equipments?
As of now, we are not into developing training centres. Our focus is on promoting individual athletes, which includes providing them with quality equipment but is not restricted to that.
Are we expecting more signings in the upcoming weeks from AMHC?
Yes, it will be an ongoing process, and the focus will be more on younger age groups.
What are the initial markers that you'll be looking to attain in the next couple of years?
We have the Race Walking World Championships in Moscow, Russia, in August this year where both Basanta Bahadur Rana and K. T. Irfan will compete in the 50 km and 20 km walk respectively. We expect both to improve on their current timings. This will be followed by the Boxing World Championship in Almaty, Kazakhstan, in October where we expect to see all our 4 male boxers in action, and our target would be to reach  the quarter finals at least. This, of course, is contingent on the IOA imbroglio being resolved before that time. 2014 would be an important year with both the Asian and Commonwealth games, and by then we aim for a few podium finishes.