Major DP Singh Interview: "I want to live every moment of this life to the fullest"
3.97K //
23 Jul 2012, 18:21 IST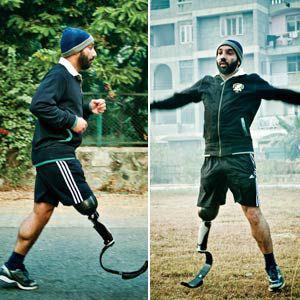 'Champions aren't made in the gyms. Champions are made from something they have deep inside them – a desire, a dream, a vision.' This quote of the great champion Muhammad Ali can be used to describe another great champion of the same calibre – Major DP Singh. He is a soldier who fought for his motherland India during the Kargil war and at one point of time, was declared dead. But as they say, God helps those who help themselves. He chose to be a survivor and not a victim. With that one decision, has turned around his fate, forcing life to bow down in front of him and salute his spirit. In an exclusive interview with Sportskeeda correspondent Taruka Srivastav, he talks about what motivates him everyday
Tell us about your life before the Kargil war.
I come from a village near Ambala but have completed my education from Rourkee, where I used to stay with my grandparents. My grandfather was retired from CDA and my father worked in the Border Roads Organization. Therefore, I was bound to end up in the Army. In 1997, I joined the Indian Military Academy, Dehradun. I joined my Unit 7 Dogra, which was deployed in the LOC where Operation Vijay (Kargil War) started. I was placed on the post which was located exactly on the LOC. I was lucky to be fighting for my motherland just a year after I joined the army.
You were declared dead at the hospital after you suffered multiple splinter injuries during the Kargil War. Your right leg was amputated. Did you lose hope at any point of time?
I have seen death from close quarters and have moved past that. I have been through a lot in life, yet have never given up and will never give up. All I know is that there is always hope and that everything comes down to your mind. It's what you think that you become. If you have lost in your mind, then you have lost in the world. My family and friends were very supportive and of course I am thankful to the doctor who revived me.
What motivated you after experiencing such trauma?
I am a person of a strong will and a stronger mind. When I used to train in the army, I suffered many injuries at that time too. But I knew what I was heading for when I chose to be in the Army. It was like God granting me a second life since doctors had already declared me dead. It took me some time to recover from all the injuries but pretty soon I could stand up. I started practising walking with the help of crutches and later on with the artificial leg. Nothing has been successful in taking away from me my zest and passion towards life. I want to live every moment of this life to the fullest. My son gives me constant motivation
What are the difficulties that you have to face being physically challenged?
First of all, I would not like to be called as a physically challenged person. Physically challenged people are those who are shown in movies like "Taare Zameen Par" and those who have lost their leg due to gangrene or polio. I consider myself to be just another normal person and not differently abled or challenged. The only challenge one faces in life is from one's own mind. Mind plays the most vital role in one's life. It wasn't easy at first of course, and I had many hurdles in my way. But I knew that I had to inspire other people like me, and so I resolved to set an example for them to follow.
What motivated you to take up sports and then running after you got the prosthetic leg?
I am an army man and sitting silently or whining over things is not in our trait. I wanted to live my life the same way I used to live it before. I am a living-on-the-edge kind of person. Therefore, I missed all the adventurous things which I used to do before. To come back to normal life, I started with golf but found it to be too easy, so I started playing squash, volleyball and doing army exercises. Running still didn't seem possible at first, as the prosthetics were not adequate. However, one day I came across the advertisement of Airtel Delhi half Marathon 2009 and I decided to take part in it without thinking. It was only in 2011 that the army supported me by introducing me to running limbs – Blade Prosthesis – and I became the first ever Indian to run on those blades. I have taken part in 5 half marathons till now and my best timing was 2 hours.
(Oscar Pistorius, who has a double amputation, is the world record holder for sport class T44 in the 100, 200, and 400 metres events and runs with the aid of Cheetah Flex-Foot carbon fibre transtibial artificial limbs by Ossur)
What is your training routine like and how do you manage to keep yourself so fit despite multiple injuries?
I start my day at 6 am by running and then doing some routine exercises. It's tough to keep up with fitness sometimes because my injuries have affected the ribs, liver, elbow, knee, hearing, intestine and I have an amputated leg. We all know how important daily practice is to help us maintain our fitness levels. But due to all the injuries and medicines, and sometimes due to ill-fitting prosthetics, I have to start over and over again. My army training and never-say-never attitude have proved to be of great advantage while dealing with all these drawbacks.