Noah Lyles has always been an athlete who manages to take center stage with his remarkable performances and fashion statements.
Lyles consistently stands out in the lineup. Recently, he attended the Milan Fashion Week, one of the 'Big Four Fashion Week' globally, and walked as a model in the show. Lyles donned a classy suit and pulled on a long jacket.
He took to social media to share a glimpse of his outfit in Milan.
"The straight away is fun but the Walkway is less stressful," he captioned.
Lyles has never been shy about donning his own style on and off the track, and fans can't stop gushing over him. Along with his glorious victory at the 2023 World Athletics Championships in Budapest, Hungary, where the spectators also witnessed a new look of Lyles.
Lyles featured a new aerodynamic hairstyle, which apparently was supposed to save milliseconds of his timings by minimizing the wind resistance. The world champion was also seen sporting a new unique nail art with painted golden stars.
At the 2019 World Athletics Championships in Doha, he stepped on the track with silver hair, paying tribute to his favorite anime character, Goku from Dragon Ball Z.
Noah Lyles aims for three gold medals at the 2024 Paris Olympics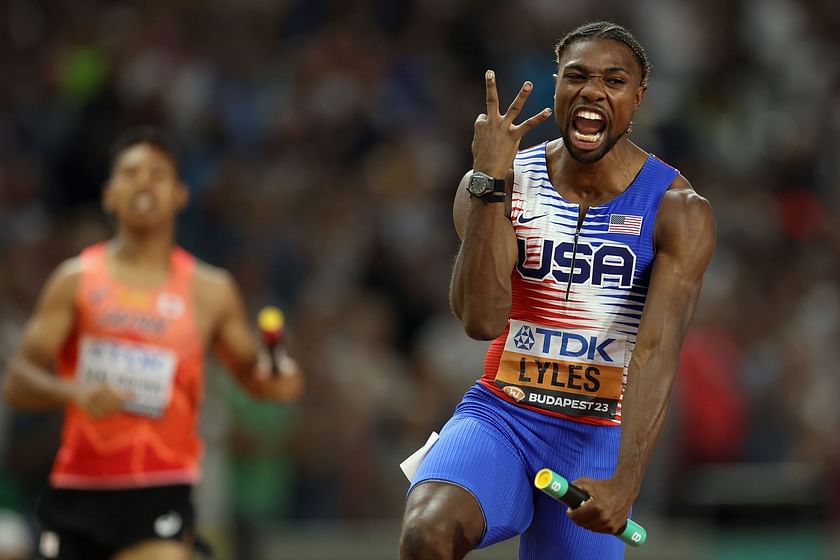 Noah Lyles showed a noteworthy performance at the 2023 World Athletics Championships in Budapest by winning a hat-trick of gold medals. He secured gold medals in men's 100m, 200m, and 4x100m events.
In an interview with The Guardian, he admitted he aimed to win three gold medals in Budapest and intends to repeat the same at the 2024 Paris Olympics in France.
"I'm using this world championship as a blueprint. I was coming here for three gold medals," he said. "And that's going to be my exact same goal when I go to the Olympics next year," he continued.
Lyles, a man of many interests including fashion and music, admitted that winning medals brings attention and helps in collaborating with people from different fields.
"Medals are the first step because then people pay attention to you. And then you can go in different directions. Fashion. Music. You can start collaborating with other people, artists, and the world."
Edited by Darla Gopikrishnan