November 28 2014, Macau, Hong Kong P. V. Sindhu and H. S. Prannoy of India made it to semi-finals in the women and men's singles category respectively of $120,000 Macau Open Badminton being played at the Macau Tap Seac Multisport Pavilion in Hong Kong.
As predicted, defending champion P. V. Sindhu made it to the semi-final of women's singles defeating 5th seed Han Li of China 21-17, 19-21, 21-16. Sindhu very predictably defeated Lindaweni Fanetri of Indonesia in round two and Hung Shih Han of Chinese Taipei in round one, en route her journey to semi-final. Like many matches that Sindhu has played recently she was stretched to 3 games. But the match with Han Li was expected to be the toughest of the tournament in any case.
Sindhu started the match on a positive note, making a grip over Han Li from the word go. She started with a 5-1 lead and cemented it further going into the break leading 11-6. Back from the break Sindhu continued her momentum and extended her lead to 17-10. Han Li tried to put up a fight reducing the gap to 13-17 but couldn't stop Sindhu from going 20-14 earning 6 game points. Han Li held her nerves to save three of them, but six were one too many.
Sindhu struggled in the second game as Han Li came back strongly
The second game was a lot more competitive with Han Li producing some fine shots. Sindhu went into the break leading 11-6 in a repeat of the first game. However, Han Li leveled back when players returned with a finely crafted 5-point streak. Sindhu replied with 4 consecutive points which Han Li followed with a 3-point run. Now both players were fighting for every point. Down 15-17 Han Li again produced a 3 point run to level and then lead 18-15. Sindhu was pressing hard for a win, but Han Li managed to hold her nerves and scored 2 straight points to take the game 21-19.
In the beginning of the third game it seemed Han Li carried her momentum when she produced some fine shots to take a 6-3 lead. But Sindhu rose like a phoenix and started scoring points at will. At one point she led 14-8 and all seemed over for Han Li. But she showed a fighting spirit to reduce the gap to 14-15 and then 16-17. But Sindhu was in no mood to play much longer. She scored required four points to win the match in a rapid succession and fixed herself a contest with 8th seed Busanan Ongbumrungpan of Thailand.
Prannoy took revenge for fellow Indian, Praneeth by beating Kuncoro to reach the semi-finals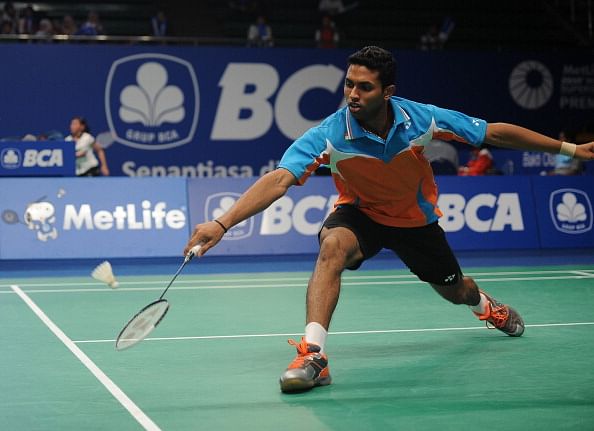 H. S. Prannoy as well lived up to expectations reaching the semi-final in men's singles category. He defeated 13th seed Sony Dwi Kuncoro of Indonesia 21-19, 21-17. Sony Dwi Kuncoro had upset 8th seeded Indian B. S. Praneeth to reach the quarters. Prannoy is having a good tournament and had made to the quarters without much struggle. In the semis he will play the local star 6th seed Wong Wing Ki Vincent who has had some good victories over seeded opponents on his way to the semis. He is the highest ranked player in the remaining four and will be favorite at least to make the final on Sunday