37th Yonex Hungarian International: Chetan Anand reaches quarterfinals
1.09K //
03 Nov 2012, 10:04 IST
India's Chetan Anand prevailed over Czeck Republic's Jakub Bitman 21-17, 17-21, 21-19 to enter the quarterfinals of the 37th Yonex Hungarian International Badminton Championship being played in Budapest.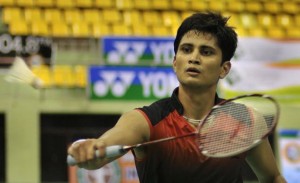 The sixth seed, Chetan, who was once the country's top ranked singles player, and currently languishing at 165 in the world rankings, stepped on the gas when it mattered against the 207th ranked Bitman.
The first game was well-fought, with the Indian clinching it 21-17. Bitman bounced back in the second game before Chetan pocketed the decider by the skin of his teeth.
Earlier the 32-year-old launched his campaign in impressive style, brushing aside the challenge of Finland's Anton Kaisti 21-10, 21-18. Chetan never allowed his 256th ranked opponent to get into the groove and decimated him in just 20 minutes.
Chetan will rub shoulders with fourth seed and world number 105 Luka Wraber of Austria in the quarterfinals.
In the women's singles, India's Sayali Gokhale also moved into the quarterfinals, pipping world number 180 Getter Saar of Estonia 21-11, 21-8 in just 25 minutes.
Earlier in the first round, the Pune girl got past 779th ranked Sofie Futtrup of Denmark 21-12, 21-12 in a contest that lasted 23 minutes.
Sayali next plays Hungary's Laura Sarosi in the quarterfinals.
Another Indian Dhanya Nair, ranked 245 went down to third seed and 86th ranked Maja Tvrdy 14-21, 16-21 in the first round.