Badminton World Federation receives award for integrity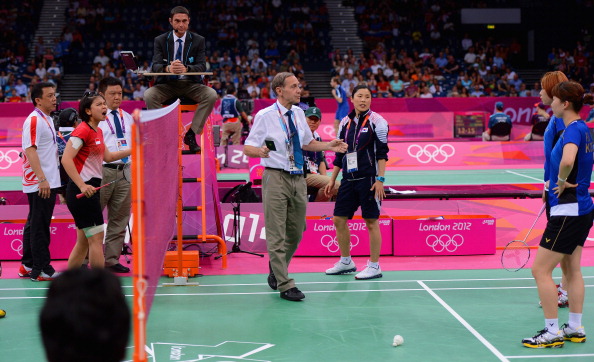 The Badminton World Federation received a pat on its back for its handling of the 'match-throwing' controversy at the 2012 Olympics. The International Centre for Sport Security and Paris 1 Panthéon-Sorbonne University awarded the BWF a trophy for its firm action in disqualifying the errant players.
The award was handed during a gala ceremony in Doha, Qatar, on Monday. BWF Secretary General Thomas Lund accepted the inaugural ICSS-Paris 1 Panthéon-Sorbonne University Trophy for 'Outstanding Achievement in Promoting Sport Integrity' for BWF's swift action in disqualifying four women's doubles pairs from the Olympics for unsportsmanlike behaviour in not using their best efforts to win the match, and conducting themselves in a manner that was abusive to the sport.
Speaking on the opening night of the Securing Sport 2013 conference, Mohammed Hanzab, ICSS President said: "It gives me enormous pleasure to present the inaugural ICSS-Paris 1 Panthéon-Sorbonne University Trophy to the Badminton World Federation for showing us all at the Olympic Games last year that courageous decisions with immediate consequences are not only necessary but highly effective in dealing with integrity challenges."
Responding to the honour, BWF President Dr Kang Young Joong said: "The London 2012 case has definitely been a learning curve for the BWF and we are committed to doing what it takes to ensure this never happens again. Being recognised by the ICSS and the Paris 1 Panthéon-Sorbonne University today gives us further assurance that our sport upholds the right values."
Chief Operations Officer of BWF, Thomas Lund, said the BWF was "honoured" to accept the prize. "No sport wishes to have its integrity and commitment to proper ethical behaviour tested," Lund said. "However, when such incidents arise, it's essential to stand firm and take appropriate action. The BWF would have liked to avoid the Olympic disqualifications altogether but we are confident that, as the world-governing organisation for badminton, we took the right decision."
The awarding of the trophy signals the launch of collaboration between ICSS and the Paris 1 Panthéon-Sorbonne University, with the goal of establishing an official prize for integrity. The ICSS is an international, non-profit institution that aims to help event organisers stage safer major sporting events. Its mission is to improve security, safety and integrity in sport by addressing real issues and providing world-leading services, skills, networks and knowledge.
Criteria for the prize were: demonstration of clear action in dealing with breach of integrity; speed and decisiveness of action taken; clear commitment to integrity; setting an example to other sport federations, and commitment to integrity demonstrated to fans.