Carolina Marin: Holding the torch for Spain
969 //
10 Dec 2012, 16:25 IST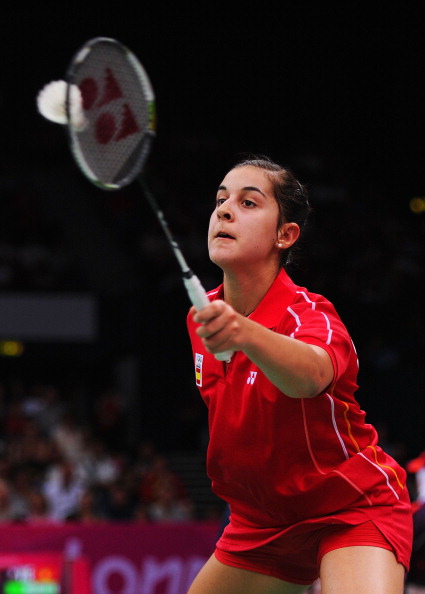 The women's singles ranking list can get depressing to anyone hoping for the global spread of badminton. Europe is losing ground, and fast.
There are just four Europeans in the top-25, and even that statistic is misleading. Apart from Juliane Schenk (No. 4), the others are on their way out. No.6 Tine Baun will retire at the All England next March; Dutchwoman Yao Jie has already retired, while No.22 Petya Nedelcheva (Bulgaria) is 29 years old and unlikely to reclaim her place in the top-ten. In other words, by March next year, Juliane Schenk will be only European top-20 player in the world.
The next-highest ranked European player comes from a country where badminton has little tradition.
With its wealth of talent in various sports – best exemplified by Rafael Nadal and the soccer World Cup-winning football team – Spain can lay claim to be the sporting superpower of the world. Badminton, though, is another matter as the country did not have a history of producing top-level players.
However, in recent years, the emergence of Pablo Abian and, more recently, Carolina Marin has made badminton fans sit up and take notice. While Abian has given a good account of his abilities over the last three years and risen to a career-high No.20 in the world rankings, Marin is an emerging new talent who has excelled in the junior circuit and is now making some inroads in the senior category as well.
The 19-year-old left-hander from Huelva admits that her choice of sport is unusual. "Badminton in my town (Huelva) is not so popular but now badminton is being played at schools and people can know more about that sport," she said in an exclusive interview.
Although she was hoping to do well at the Olympics, Marin could not get beyond the group stage because she was unlucky enough to draw the eventual champion, Li Xuerui, in her three-woman group. Maria fell in straight games to Xuerui but beat Peru's Claudia Rivera in her last group match.
For a player who was competing at the junior level until last year (she competed at the World Junior Championships last year, where she lost in the semifinals), Marin has made an impressive foray up the senior rankings. She climbed to a career-high 25; among her title victories are the European Junior Championships and the Spanish Open, both in 2011. In her young senior career, she has already claimed a few big victims, including Tine Baun at the European Team Championships in February 2012, Yip Pui Yin at the Djarum Indonesia Open in June 2012, and Eriko Hirose at last year's World Championships. Her performances prompted world No.4 Juliane Schenk to state that Marin was one player from Europe with 'great potential'. "If she stays injury-free she will have a great future," Schenk told Badminton Europe's website.
Marin is aware of her potential and is confident of her ability to move up the ladder. "I think if I focus on my practice every day and practice hard every day, I can do everything," she says.
She might not have made an impact at the Olympics, but her performances from now on might make a world of difference to how badminton is perceived in Spain. Marin says she is happy with the recognition she has got so far, but admits she would like badminton to be as widely recognized as tennis or football. "I'm very happy (with the recognition) because in Spain it is very difficult to have many good badminton players," she says. "But I believe that in the future Spain will have some good badminton players."