Dream come true, says Sourabh after beating Gade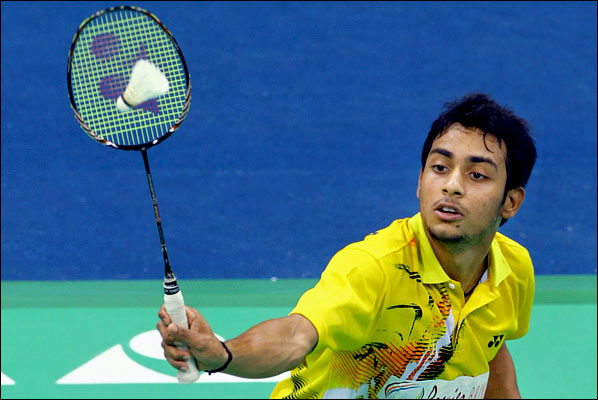 Things have dramatically turned around for Sourabh Verma. Less than a month after a shock first round exit in the National Championships, the world No.32 achieved his biggest result yet, with a first-round upset of local favourite and world No.8 Peter Gade at the Denmark Open.
Sourabh, true to character, played a smart match. He was quick in covering the court and patient in working his points. Whenever the opportunity arose, he unleashed a hard smash that caught Gade out time and again.
"It was a nice game," said Sourabh, with typical understatement. "It's a dream come true… I wanted to play well. He's one of the legends, and he's been in the top-5 for a long time. When I went in, I didn't think much about it, I just wanted to enjoy the game. I didn't think of winning. I thought I wanted experience playing Peter Gade for the first time."
Gade had announced this would be his last Denmark Open, and the crowd watched expectantly as he took on the unknown Indian. To their surprise, Sourabh went 7-2 and 10-4 up before the Dane staged a recovery to come close at 16-17. It was at this point that Sourabh kept his nerve and inched ahead to take the first game. "His flicks from the backhand were problematic," said Sourabh. "The other strokes were no problem. My smash worked well too."
In the second game, the Madhya Pradesh lad opened up the lead and pressed home the advantage. Gade, once he had recovered from the trauma of the loss, acknowledged that the Indian seemed to have plenty of promise. "I tried to rush him, but he was patient," he said. "He played intelligently. He can get better, but he needs to be consistent."
This prospect would've seemed unlikely in early October, when Sourabh, defending his national championship, fell in the first round to the unheralded Shreyansh Jaiswal. "It was like a bad dream," Sourabh says. "I don't know what happened, but I didn't worry too much about it. I just let it go. This season has been okay. It was average, not too bad or great. I wasn't consistent. At Singapore and Indonesia, I played badly."
Asked if he thinks the win over Gade can be the turning point, the soft-spoken Sourabh thinks a while before saying: "Yes, I think so. This can be the turning point. I think I can go higher from here."