French Open: Srikanth win caps off a largely successful day for India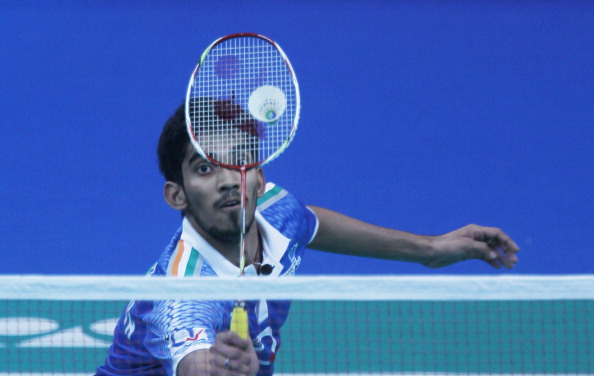 In the ongoing Yonex French Open 2013, another good news came for the Indian fans when the Indian smasher Srikanth K. registered victory over the Hong Kong opponent on Wednesday, October 23, 2013.
Indian player Srikanth K. was up against Wing Ki Wong from Hong Kong in his round-1 match of the Men's Singles category. Srikanth managed to defeat Wing Ki Wong in a three-game match and advanced to the next round.
It was Wing Ki Wong who started the first game of the match with the lead and was ahead of Srikanth initially. Srikanth returned back to his form and leveled the score by 12-12. Srikanth continued his agile attack over Wing Ki Wong and took away the game comfortably by 21-14.
After 2-2 on the score board, Wing Ki Wong completely dominated the second game of the match. After this score, Srikanth was not allowed to even touch the score of his opponent as Wong overruled the game and sealed the game comfortably by 21-17. With Wong's win in the second game, the match progressed to the third and decisive game.
The third and final game of the match proved to be a one-sided encounter between the two opponents. After his defeat in the second game, Srikanth reverted back strongly and forced Wong to surrender. Srikanth bagged the game by 21-10 and progressed to the second round of the Men's Singles category.
The overall score of the match was 21-14, 17-21 and 21-10 in Srikanth's favour. The match lasted for 47 minutes.
Before this round-1 match, Srikanth cleared the hurdle of Qualification rounds on Tuesday, 22nd October, 2013. In his first qualification match, Srikanth defeated the Irish smasher Scott Evans by 21-19 and 21-15 in a 30-minute clash between the two. The Indian opponent Sourabh Varma gave him a tough fight in his second qualification match but the result came in Srikanth's favour. The final score of the match was 21-18, 18-21 and 21-11 in Srikanth's favour.
Later on day two, Sai Praneeth B. will be the other player to take forward the Indian challenge in the Men's Singles category. Sai will be locking horns with Hans-Kristian Vittinghus from Denmark.