German Open: Fifth time unlucky for Juliane Schenk
795 //
04 Mar 2013, 11:27 IST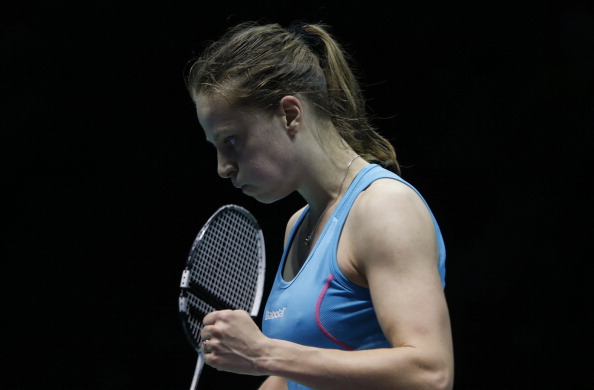 The German Open continued to present a jinx for the best German player of today. World No.4 Juliane Schenk, who has failed in each of her four final appearances thus far, yet again stumbled at the final hurdle, losing to world No.3 Wang Yihan of China in the women's singles final on Sunday.
The straightforward 21-14 21-13 verdict in Wang's favour meant Schenk had failed in five final appearances, stretching back to 2008 when she lost to Korea's Jun Jae Youn. In subsequent years, she has lost to Chinese opponents each time: Wang Xin (2010), Liu Xin (2011), and Li Xuerui (2012). The German Open is usually looked upon as a warm-up event for the prestigious All England that begins this week. Schenk must have fancied her chances going into the match as their last two encounters had been three-set matches, with Schenk winning in November at the China Open and losing a close match at Hong Kong the same month. However, on Sunday, Wang gave little chance to the German, shutting her out in 34 minutes.
China won three of the five titles at stake on Sunday. The major surprise was the loss of women's doubles favourites Ma Jin/Tang Jinhua, who had dominated the Superseries circuit in the second half of 2012. The Chinese were beaten by Korea's Jung Kyung Eun/Kim Ha Na 11-21 21-14 21-13.
Chai Biao and Hong Wei beat compatriots Qiu Zihan/ Liu Xiaolong 21-10 21-14 in the first match of the day. Top seed Chen Long then decimated Indonesia's Tommy Sugiarto 21-17 21-11 in 46 minutes to make it two golds for China. Sugiarto briefly had the lead at 11-9 in the first game, but after Chen caught up with him, the Indonesian was thoroughly outclassed.
Although Ma Jin and Tang Jinhua faltered in the next match, Wang Yihan got the better of Schenk in the fourth match of the day to make it three golds for China.
The only match that did not feature the Chinese, the mixed doubles final between Denmark and Korea, went Korea's way. Shin Baek Choel/Jang Ye Na held off Anders Kristiansen/Julie Houmann in a 1-hr 8-min thriller. The Koreans came back from 9-13 in the third game, and two match points down, to take the match 21-19 19-21 24-22.