India Open: Saina Nehwal loses despite having three match points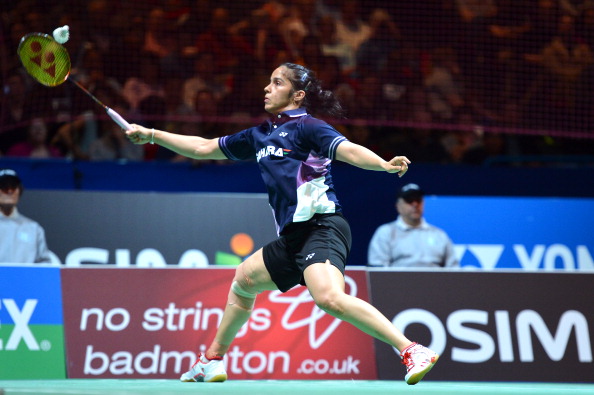 What is it with the India Open Superseries and Saina Nehwal? The Indian icon failed again to progress past the early rounds, falling to a relatively unknown Japanese in the second round today. Yui Hashimoto disposed off the top seed 13-21 21-12 22-20.
Last year, having lost unexpectedly, Saina was so tearful that she could only mumble an apology to the waiting press. This year she had a few more words, blaming a line call on match point for her loss.
The line call came with Saina having three match points, 20-17 in the third game. Hashimoto drilled a down-the-line smash that was called in, and which Saina furiously protested. The chair umpire refused to change the call. Saina still had two match points.
Hashimoto saved the second as well; on her third match point the top seed smashed a high serve wide. Hashimoto then drew Saina to the net and killed the reply to gain match point. She didn't need another chance to convert.
"I was upset with the line call," said Saina. "I just didn't find my rhythm after that. I couldn't control the points. The points went by so quickly I didn't have time to think. I don't know why I'm not able to do well at the India Open."
She also had praise for her opponent, whom she described as a "fighter".
Ironically, the day had been near-perfect for India, with five Indians entering the men's singles quarterfinals, and two in the women's singles quarterfinals. With Saina winning the first game comfortably, it looked like a charmed day for India. But Hashimoto slowly got her way back in, giving glimpses of a promising player. Quick, hard-hitting and covering the court well, the Japanese girl shut Saina out in the second game and kept level for most of the third set until Saina earned the lead at 20-17. It was to Hashimoto's credit that she kept the faith despite all the support for Saina, and won the next five points. Yui Hashimoto versus PV Sindhu in the quarterfinals might be another interesting match.
Earlier, Anand Pawar scored his biggest win, nailing third seed Hu Yun of Hong Kong 21-15 15-21 21-10. Pawar will play compatriot Ajay Jayaram in the quarters; Jayaram had a quick victory over Dionysius Hayom Rumbaka of Indonesia. "I wanted to win the first game because it was the good side," said Pawar, referring to the drift. "I tried until midway in the second, and then played for the third game. He wasn't comfortable with my flat game, so I was able to catch him a few times. Ultimately, it's about how you play on the day that counts."