India Open: Sindhu steamrolls Hashimoto, enters semifinals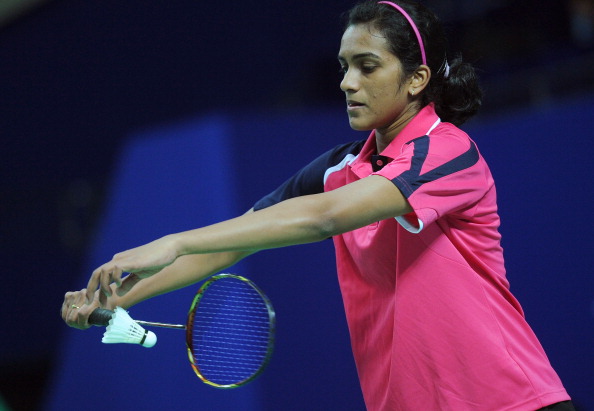 A day after Saina Nehwal was upset by Yui Hashimoto of Japan after holding three match points, PV Sindhu showed how efficiently the job could be done. The young Indian ruthlessly disposed of Saina's conqueror to reach the India Open semifinals today.
The Indian was superior in all departments of the game, expertly dismantling Hashimoto's challenge with an intelligent mix. Sindhu, nearly a foot taller and possessing steep attacking strokes, showed plenty of craft to prevent Hashimoto from getting close. The Indian dominated exchanges from early in the match, and unsettled Hashimoto with her deep clears to either corner of the baseline, while also showing soft hands up front near the net.
The Indian was so dominant that she piled on point after point until the first game looked a formality. With a lead of 19-7, Hashimoto looked down and out, but suddenly she began a great fightback. The Japanese inched closer, winning the next nine points to suddenly remind everyone that she was capable of doing to Sindhu what she had done to Saina a day earlier. Sindhu too began to look desperate, and as Hashimoto came within three points, she appeared rattled.
However, after a long rally, Hashimoto finally played the shuttle into the net, and Sindhu screamed in delight. The next point was won quickly.
The confidence of having won the first rubbed off on her, and she was even more dominant in the second. The steep smashes honed in with deadly accuracy. As the match wore on Sindhu was in her zone, winning as she pleased. The 21-16 21-16 verdict gives her a place in a Superseries semifinal for the second time, after the China Masters last year.
Earlier in the day, Arundhati Pantwane provided surprising resistance to All England finalist Ratchanok Intanon of Thailand. Pantwane even managed to win the first game and troubled Intanon through the match, which the Thai eventually managed to wriggle out of. "It's a good result," said coach Pullela Gopichand. "Arundhati has some way to go, she needs to hit harder, but she played very well today."