Thailand Para-Badminton International 2017: Indian athletes pick up seven medals
929 //
05 Jun 2017, 19:39 IST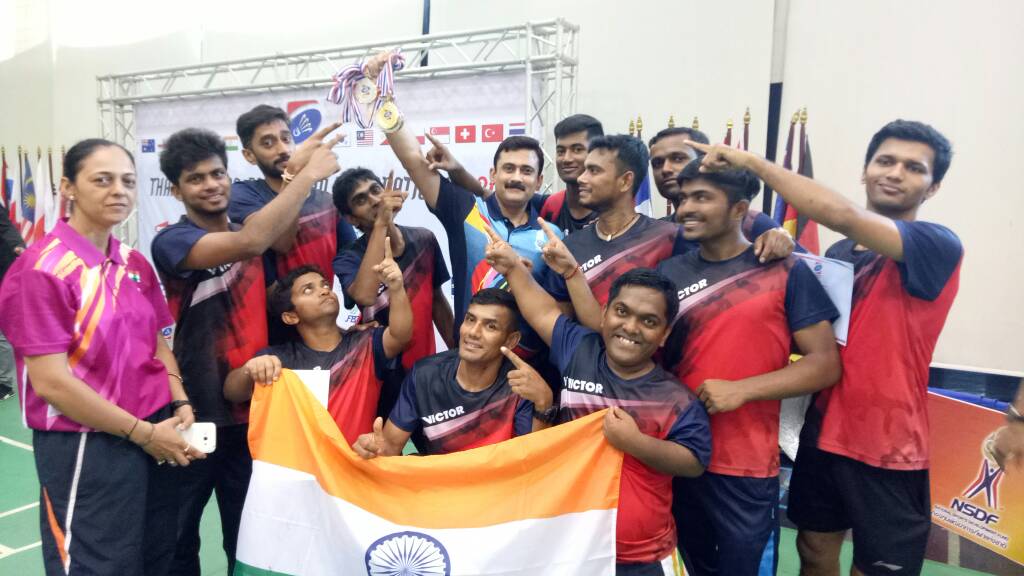 Sai Praneeth clinched a second title in a row with a thrilling three-game win against Indonesian Jonatan Christie in the final of the men's singles event at the Thailand Open Grand Prix Gold 2017. However, this was not the only terrific piece of news for Indian badmintons fans coming out of Thailand yesterday.
The Thailand Para-Badminton International 2017 was held in Bangkok simultaneously with the Thailand Open Grand Prix. The tournament held in the Indoor Sports Authority Centre has turned out to be the most successful one for the Indian Para-Badminton contingent till date as they won a whopping 7 medals. These 7 medals include 2 gold, 3 silver and 2 bronze.
This haul sets the record for the most medals won by an Indian team at an international badminton tournament. India bagged medals in 6 standing categories with an outstanding achievement of finishing both first and second in the MS SL3 (Men's singles with impairment in lower limbs) category where Pramod Bhagat and Manoj Sarkar bagged gold and silver respectively. The duo also bagged the silver medal in MD SL3-SL4 category.
It was not an all mens' show as Parul Parmar - one of the most decorated Para-Badminton players in India - bagged a gold and a bronze medal. Her gold came in the WS SL3 (Women's singles with impairment in lower limbs) category while she finished third in the WD SL3-SU5 (Women's doubles; SU5: Impairment in upper limbs) category alongside her Japanese partner Akiko Sugino.
In the MD SS6 (Short Stature) category, Mark Dharmai and Sunil Pradhan bagged a silver medal and showed the entire nation that height is never an inhibitor in chasing one's dreams.
They defeated Hatakeyama Yohei and Luke Missen in the semifinals but lost to the pair of Chu Man Kai and Wong Chun Yim in a hard fought final. Meanwhile, Sukant Kadam carried over his Spanish Para-Badminton International success as he also won a silver medal in Thailand in the MS SL3 category (less impairment in limbs).
Even if these daunting achievements seem anything less, then we should be even more surprised to know that Pramod Bhagat and Manoj Sarkar took part in the Men's Doubles final less than an hour after their Men's Singles final that had 3 really long sets as the score between the two Indian ace shuttlers read 20-22, 21-14, 21-14.
This achievement of the Indian Para-Badminton contingent seems even more special as the first ever Para-Badminton National Camp in India was organised just a week before this tournament in Lucknow but this did not deter the hopes of our athletes as they have made the nation proud by winning almost every game they took part in.
There para athletes showed their power and determination last year in the Rio Olympics as well and it is high time that the Indian government arranges proper infrastructure and funds for these not so lucky athletes of our nation.