INTERVIEW: Feels great winning my maiden international crown, says shuttler Arundhati Pantawane
1.28K //
19 Nov 2012, 10:58 IST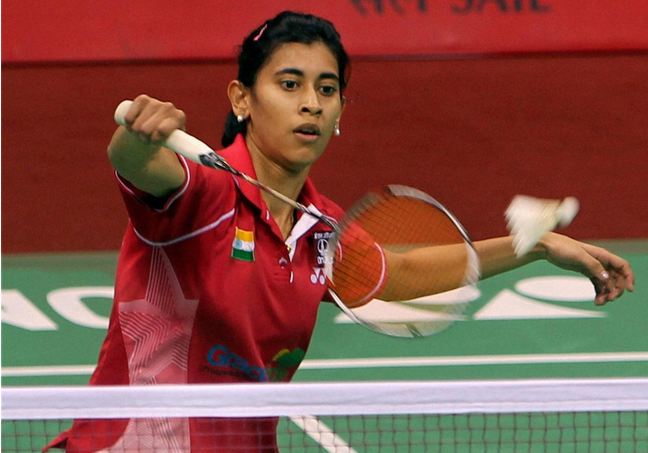 A maiden international singles title means a lot to any shuttler and it is no different for Arundhati Pantawane, who is experiencing a top-of-the-world feeling after recently annexing the Bahrain Open women's singles crown.
The 23-year-old Nagpur girl dished out a resounding performance at the Bahrain Open, defeating fellow Indian Tanvi Lad in the summit clash. Arundhati also sprang a major surprise, upsetting top seed and world number 47 Yegit Neslihan of Turkey in the semifinals.
The Indian, who trains at the Pullela Gopichand Badminton Academy in Hyderabad, jumped 38 places in the latest world badminton federation rankings to occupy the 109th position following her exploits at the Bahrain Open.
The year 2012 has been a bit of mixed bag for Arundhati as she skipped a number of tournaments on account of injuries. Last year, she had a phenomenal run, climbing 250 places to reach a career-high ranking of 51.
The shuttler was born into a sporting family; her father is an athletic coach while mother is an athlete. Her sister is a cricketer.
Arundhati spoke to Sportskeeda in an exclusive interview.
Excerpts
First of all, how do you think this maiden international singles title (the women's singles crown at the Bahrain Open) is going to shape up your future progress?
It obviously feels great to win my maiden international women's singles title. I'm sure this triumph in Bahrain is going to help me to do a lot better in future. I feel more confident now than before, both on and off the court.
When you decided to participate in the Bahrain Open, did you really think that you could go the distance (win the women's singles title)?
I was actually confident of faring well in the tournament and winning the singles crown gave me a 'high' feeling, which will surely motivate me to turn in such title-winning performances on a consistent basis in future.
You beat Tanvi Lad in an all-India final in the Bahrain Open. How difficult it is to motivate when you know it's an all-India clash?
Yeah, it's always a tad difficult to motivate when it comes to an all-India clash at the international level because you don't any coach to support you. I have played against Tanvi several times this year; she is a good player, who covers the court well but I was pretty confident of winning against her.
It has been a bit of an Indian party at the Bahrain Open. You and Sai Praneeth won the women's and men's singles titles while Rupesh Kumar/Sanave Thomas bagged the men's doubles crown?
Indeed it was! The Indian shuttlers really stole the show. There was a lot of Indian support as there are lots of south Indian people leaving there.
Tell us a bit about your semifinal match where you upstaged top seed Yegit Neslihan of Turkey.
Yegit is a solid player. I had seen her play in the Polish Open this year, she was in great form in that tournament. I just thought of playing my natural game, Yegit tried to engage me in long rallies which is her forte. I altered my strategy and started attacking more and it worked as I started winning points and subsequently the match. It was a well contested match.
How much self-confidence you have gained by beating a player ranked almost 100 places above you?
Obviously beating a higher ranked player gives you a lot of satisfaction. But this is not the first time that I had beaten a higher ranked shuttler. I have defeated other higher ranked players before as well. Winning against higher ranked opponents gives you the self-belief that you can beat the best in the business on any given day.
You reached a career-high ranking of 51at the start of 2012 and then you slipped steadily.
I had to give many tournaments a miss this year because of injuries. That's why my ranking has dropped rapidly in recent times.
Saina Nehwal has really inculcated plenty of self-belief in our shuttlers by showing that Indians can beat the best in the business, especially the Chinese. What's your take?
Yes, Saina has been a great source of inspiration for all of us. She had removed the fear of facing the mighty Chinese players from our mind.
What international competitions you are taking part in the new future?
I'm playing the Macau Open Grand Prix next week. I would also feature in the Tata
Open as well as in the Syed Modi memorial tournament.
You are employed with ONGC. How do you juggle between badminton and job?
ONGC is been of huge support, especially our games co-coordinator Sidhharth Jain. They have really taken good care of me and ensured that I don't need to worry about my job and concentrate only on my game.
What long-term goals you have set for yourself?
Every sportsman has a dream to take part in Olympics. Even I have a dream to represent my country in the Olympics. Hopefully I will make the cut for the 2016 Rio Olympics,
What other things you do when you are not playing badminton?
I love to read novels and poems, they are my favourite pastimes.