Lin Dan pays tribute to Peter Gade
2.25K //
31 Dec 2012, 15:48 IST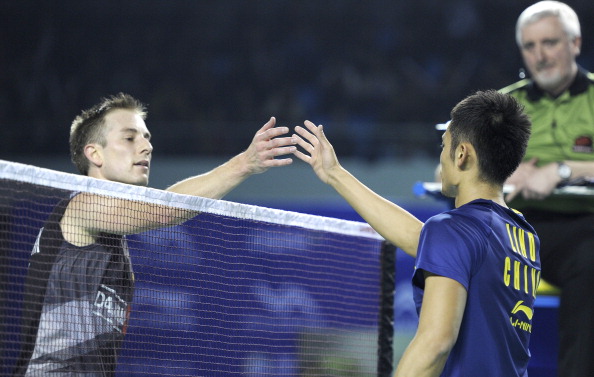 The world's greatest contemporary player paid a warm tribute to long-time rival Peter Gade, whose stellar career ended on Saturday at the Copenhagen Masters.
Lin Dan, who had several memorable battles with the Danish great, made it a special farewell for Gade by arriving in Denmark to play Gade during the Invitational tournament. Interestingly, Gade won the match 20-22 21-16 21-14 in just over an hour. The win was
one of just a few Gade has enjoyed over Lin Dan, as the Chinese legend has racked up a 17- 3 head-to-head record over the Dane. The last Gade beat Lin Dan was at the Swiss Open Superseries in 2010. Gade has often hailed Lin Dan as the greatest player he has ever faced.
In a special video message to Gade, Lin Dan said: "It has been an absolute honour for me to take part in Peter Gade's farewell match and ceremony today. (Despite) so many outstanding players in our discipline, he had chosen me to play against him in his farewell match and it is such a privilege. So it is over – Peter Gade has officially bid farewell to his illustrious badminton career. I hope he finds his brand new beginning and it is my heartfelt wish that he will go from strength to strength. No matter what he does, I hope he finds enjoyment. It can only be so important that he and his family taste bliss and happiness. As for me, I'll always fondly remember the days we shared the same stage in this sport."
For his part, Gade sent a thank-you note to all his fans on his Facebook page: "Hey Guys, thank you all so much for a wonderful way to end my career… I am deeply honoured by the way things happened and went yesterday… I didn't know what to expect coming into this evening… but I enjoyed every moment. Of course it's a bit strange right now… but I feel good. Thank you all so much for your support here and at the Falconer-Salen last night. I will never forget this evening… now it's about celebrating with good friends, great food and wine."
Post-retirement, Gade will be part of a coaching project for 16 players (aged 13-19) from the Copenhagen area. He is also taking on an ambassadorial role to facilitate business interactions between Danish and Chinese companies. Interestingly, Gade was awarded the Sports Award from the Danish Ministry of Culture this year.