Praneeth: Gifted strokeplayer in the Chetan mould
1.04K //
26 Dec 2012, 20:14 IST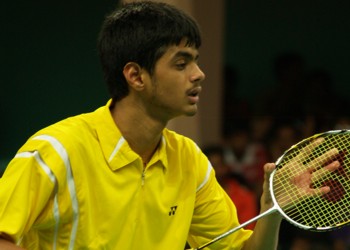 He is considered India's most naturally gifted shuttler, but Sai Praneeth admits he is yet to adjust to the demands of top-level badminton.
The 20-year-old, whose progress is avidly followed in badminton circles for his fluid style and impressive range of strokes, is in his first year on the Superseries circuit. He had a rough initiation; falling in the first or second round of the five Superseries he took part in this year. From being a semifinalist at the World Junior Championships in 2010, the transition was to a different level, and he acknowledges it as much.
"The senior level is so high," says Praneeth, who is in Bangalore to participate in the inter-PSPB tournament. "If you have to compete, you have to adjust to the speed and the conditions. Superseries events are all in big halls with air-conditioning, so you have to gain experience playing in those conditions. In other countries, the juniors get exposure at the senior international level, but we didn't have much exposure. So I couldn't exactly know about this level… I found it a bit tough."
Praneeth did have a decent year overall, though. He won the Bahrain International Challenge, reached the quarterfinals at the Malaysia Open GP Gold and the Thailand Open GP Gold, and was runner-up at the Tata International Challenge in Mumbai. "It was neither a bad year, nor a good one," says Praneeth. "I don't think I have to change my style of play. I have to improve my fitness level and strength. Lee Chong Wei, Lin Dan and Chen Long are the toughest players, but we can compete with the others. I've beaten (world No.25) Rumbaka and had match point against (French Open Superseries winner) Daren Liew. The level is the same, but it's about experience and adjusting to the conditions… earlier I used to think the seniors' level was very high, but now I'm adjusting to that level. Maybe it will take one or two years."
Praneeth is part of a pack of promising young shuttlers that includes HS Prannoy, Sameer Verma, K Srikanth, Pratul Joshi and Guru Sai Dutt. The competition between them is close, and that augurs well for Indian badminton. Indian badminton players, especially in the men's singles, are known to be late bloomers. Given his talent, Praneeth is capable of breaking that notion and catapulting himself to the top-20. The Hyderabadi brings to mind his senior compatriot – the prodigiously gifted Chetan Anand – for he has the same versatility in strokeplay and the same laidback attitude off-court. Indian badminton fans will hope that Praneeth can better what Chetan Anand did in his prime.