Sai Praneeth bags Bahrain International crown
1.13K //
12 Nov 2012, 09:31 IST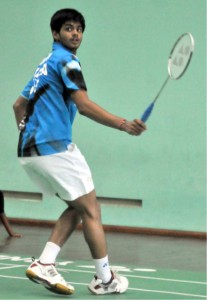 Sai Praneeth capped off a memorable campaign for India at the UAE Exchange Bahrain International Challenge 2012 Badminton tournament, which concluded at the Bahrain Keraleeya Samajam's Diamond Jubilee Hall in Segaya, Manama.
The 71st ranked Indian staged a remarkable come-from-behind win over top seed Niluka Karunaratne of Sri Lanka 14-21, 21-14, 21-17 to clinch the men's singles title.
The third seed Praneeth – the lone Indian to be seeded in the tournament – struggled to get into the groove in the opening game, losing it 14-21.
At this juncture, Karunaratne seemed to be playing according to the seed book, giving away nothing to the Indian. But the 20-year-old Andhra boy was not one to throw in the towel easily.
The Indian gave the Sri Lankan world number 43 a dose of his own medicine, unsettling him on both flanks, pocketing the second game with a scoreline identical to the one with which the Sri Lankan had won the opening game.
The decider was well fought with both players trying to outsmart each other, but Praneeth played like a seasoned campaigner, taking the decider at 21-17.
Earlier in the semi finals, Praneeth had disposed off fellow Indian K Srikanth 21-18, 21-18. Praneeth had put it across Indonesia's Adi Pratama in the quarter finals.
Earlier, Arundhati Pantawane had scooped up the women's singles crown, beating fellow Indian Tanvi Lad in an absorbing match. Arundhati, ranked 147th in the world, earlier caused a major upset in the semi finals, defeating top seed and world number 48 Yegit Neslihan of Turkey 21-17, 21-17.
There was more elation in the Indian camp as the pair of Rupesh Kumar/Sanave Thomas bagged the men's doubles crown. The Rupesh-Sanave pair, the top seeds in the tournament and ranked 27th in the world, outplayed K Nandagopal and Jishnu Sanyal in the final.