Saina spreads the cheer at disc tournament
1.22K //
15 Jul 2013, 16:55 IST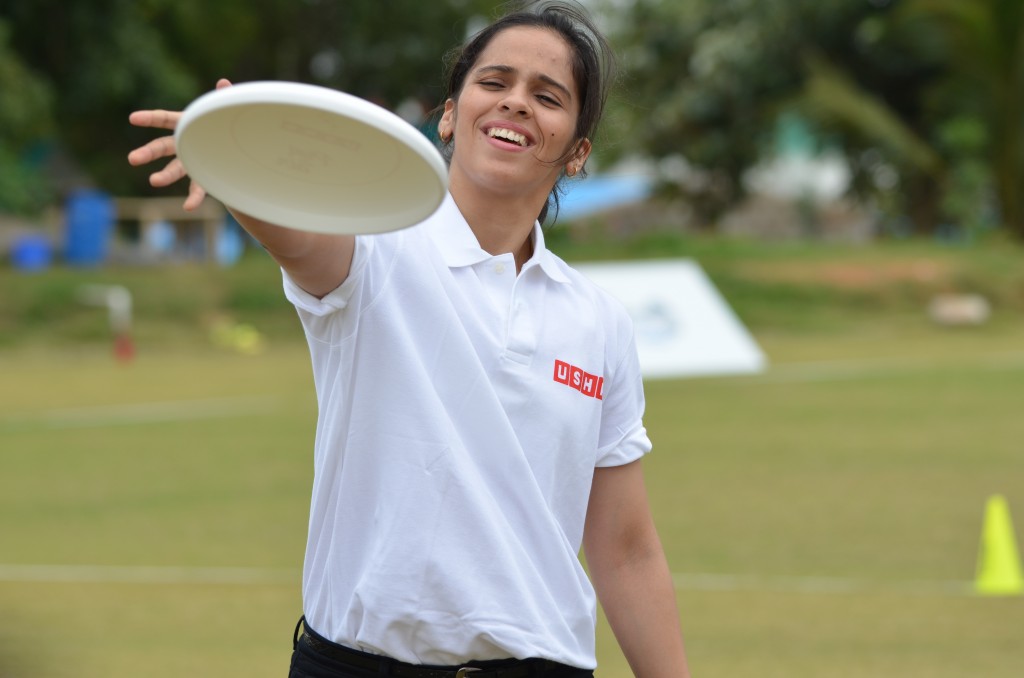 Saina Nehwal is used to the dynamics of mainstream sport – orchestrated events, spectators, attention, prize money. On Sunday, however, she had an opportunity to witness the coming-of-age of one of India's newest and non-mainstream sports – Ultimate. The breeziness of the event seemed to rub off on her, as she shed the burdened appearance she sports under the public gaze and turned once more into a giggly 23-year-old.
Ultimate, a sport with elements of rugby and handball, and played with a disc, has increased in popularity dramatically. Sunday saw the final of India's biggest tournament – Bangalore Ultimate Open – which hosted 24 teams from across the country. Bangalore's 'Learning to Fly' emerged winners, beating Spinergy from Auroville in the final. The approximately 500-strong crowd, at the lush green Aditya Sports Complex near Nelamangala outside Bangalore, were pleasantly surprised when the badminton icon walked in as chief guest.
Saina's presence lifted the crowd. Ultimate is only just making its presence felt as a sport in India, and most people still relate the 'frisbee' to a disc thrown on beaches or gardens, without much running involved. (The sport was earlier called 'ultimate frisbee' but was shortened to 'ultimate' because Frisbee is a brand name.)
But Ultimate has evolved into an athletic sport abroad, with leagues in some countries. While India hasn't attained that level, some of the players at the event showed spectacular skills. Saina's presence at the final was just what might be required for a once-obscure sport to take itself more seriously.
The world No.3 briefly took to the field in an 'all-stars' match, giggling as she struggled to control the disc in breezy conditions. Afterwards, she acknowledged how important it was for such sports to grow.
"When I was young, I used to play the frisbee for fun," she said.
"But I can't believe how professional it has become. I didn't know it could be played at this level. It's fun to play this game; both men and women can play. If this sport is encouraged, it can become one of the best sports in India. After I played, I realised how difficult this is," she added.
"It's amazing how much this has grown. Cricket has reached a certain level, but we're doing well in other sports. Improvement is happening; so many people are playing now. The boxers and shooters are doing well. With more government support, and more coaches, these sports can grow further."
With the World Championships just a few weeks away, she couldn't escape questions on her preparation.
"The last three weeks, I've been training very hard," she said. "I came here because it was a Sunday. I've been unlucky with injuries the last few months. It's unfortunate, but it's something I had no control over. My ranking has gone down from No.2 to No.3, but the difference is just 1000 points, it's not much. There are three weeks to go for the Worlds, and I'm in good shape now. The pressure is there, but I'm confident. I'm working on a few new areas."
Haven't the public events (in Delhi and Bangalore) been unnecessary distractions?
"Yes, it means time away from training, but you need to do your bit. There's a lot of effort put into the IBL, and when they want you there, you cannot refuse."
Saina's father Harvir Singh says his daughter has recovered from her injuries and the trauma of her early round losses.
"She used to cry so much," he said. "She kept asking: 'why is this happening to me?' Now she is all right."