Shixian takes revenge on Saina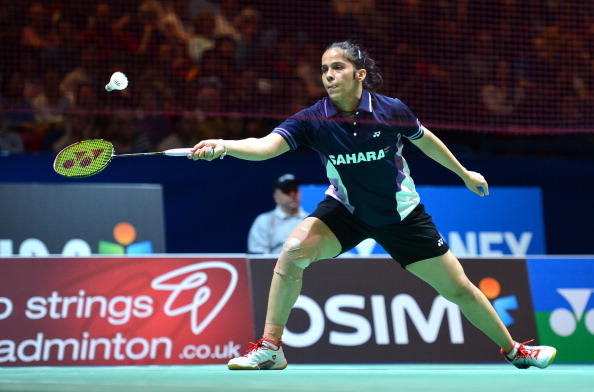 Having dominated the Swiss Open over the last two years, world No.2 Saina Nehwal fell to a surprising loss in the semifinals of the Grand Prix Gold event at Basel on Saturday.
Nehwal lost to the same player she beat in the last edition – Wang Shixian of China. The Indian overcame a first-game deficit but could not sustain the momentum as she fell 21-11 10-21 21-9 in 50 minutes.
The Swiss Open has held a special place in Saina's career. It was at this event in 2012 that she broke a year-long sequence of not winning a major title. Having lost in the semifinals of the All England during the last fortnight, Saina would have expected to turn things around with a title in Basel. Shixian improved her record against Saina to 2-4. Saina had won their last encounter, the quarterfinal of the All England.
On Saturday, Shixian led from the start, winning the first game rather easily. She continued with that momentum in the second, but Saina caught up at 7, and slowly edged past. From 13-10, she rocketed ahead, pocketing the next eight points to make it a game all.
The Indian might have expected to carry on in that vein, but again Shixian turned it around, and the third game was a replica of the first, winning the match 21-9.
Shixian will take on All England runner-up Ratchanok Intanon (Thailand) in the final. The men's singles final will be an all-China affair, with Du Pengyu taking on Wang Zhengming. Four of the five finals will feature Chinese, with only the women's doubles an all-Korea affair.
Among the other interesting results on Saturday was the mixed doubles semifinal between Zhang Nan/Zhao Yunlei and Tontowi Ahmad/Lilyana Natsir (Indonesia). The Indonesians had breezed past the Chinese in the All England final recently, but the Chinese managed to reverse the verdict on Saturday, winning in three games.
Finals:
MS: Du Pengyu (Chn) vs Wang Zhengming (Chn)
WS: Wang Shixian (Chn) vs Ratchanok Intanon (Tha)
MD: Ko Sung Hyun/Lee Yong Dae (Kor) vs Chai Biao/Hong Wei (Chn)
WD: Jung Kyun Eun/Kim Ha Na (Kor) vs Lee So Hee/Shin Seung Chan (Kor)
XD: Zhang Nan/Tang Jinhua (Chn) vs Joachim Fischer/Christinna Pedersen (Den)