Syed Modi International: Kashyap triumphs; Sindhu beaten
887 //
23 Dec 2012, 17:20 IST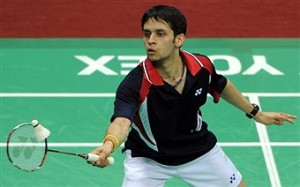 National champion P Kashyap won his first international title of 2012 at the Shaheed Dr KL Garg-Syed Modi International GP Gold tournament on Sunday, but compatriot PV Sindhu narrowly failed as she lost in the final.
Sindhu was competitive throughout a tough 73-minute encounter against Indonesia's Lindaweni Fanetri, but the Indonesian found the reserve at the home stretch to deny the Indian. Fanetri won 21-15 18-21 21-18.
Kashyap's match against Thailand's Tanongsak Saensomboonsuk was scheduled to be the last on finals day, and he salvaged it for India after Sindhu came up short. The world No. 20 took on the No. 41 from Thailand, against whom he had a 1-3 head-to-head record. However, Kashyap has been in form this year, having reached the semifinals of two Superseries, and  a strong performance at the Olympics. He overturned a 13-17 deficit in the first game to clinch it at 21-19, but Tanongsak levelled the match by taking the second 21-14. The early part of the third was close, but Kashyap steadily pulled ahead, and after 12-11, took the next five points to keep himself out of Tanongsak's range. The 21-19 14-21 21-17 ensured that the top-ranked Indian finished the year on a high.
In the women's singles final, Fanetri started off well, maintaining a comfortable lead throughout the first game to go ahead. Fortunes reversed in the second game as Sindhu found her length, and it was a battle of long rallies. Fanetri showed some deft touch, and she repeatedly caught the Indian short by flicking from the net, and with her deceptive smashes on either flank. Although she came to within a couple of points of Sindhu, the Indian managed to maintain her lead and take it to a deciding third game.
The third game was a tense and thrilling affair. Sindhu's reach and powerful smashes were countered by the craftiness of the Indonesian, whose crosscourt smashes often found their way past Sindhu's outstretched racket. Still, at 10-all, it looked too close to call. Fanetri jumped ahead 14-10 by foxing Sindhu with her accurate smashes on either flank, but the Indian did well to claw her way back and even lead at 17-16. Just when it seemed she had gained momentum, Fanetri got back with a smash to her body. The last few points were over too quickly, as Sindhu struggled to stall Fanetri's progress. The final point came with a drive that Sindhu failed to connect, whereupon Fanetri collapsed to the ground in celebration and then rushed to hug her coach.
In the other finals, Ko Sung Hyun/Lee Yong Dae won the men's doubles, while Fran Kurniawan/Shendy Puspa Irawati took the mixed doubles title. Savitree Amitrapai/ Sapsiree Taerattanachai of Thailand won the women's doubles.