AIBA Junior Mens World Boxing Championship: Naveen and Sandeep in Semi's
723 //
27 Jul 2011, 20:31 IST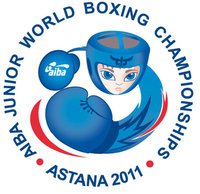 Naveen Kumar (50kg) and Sandeep Kumar (57kg) advanced to the semi-final stage of the second AIBA Junior World Boxing Championships in Astana, Kazakhstan winning their quarter-final bouts in emphatic fashion. Both the Indian boxers are now assured of at least a bronze medal finish from the tournament.
Playing in the fly weight division Naveen took on Muradov Malik of Azerbaijan in the round of eight. Kumar, a gold medallist at the 2011 President Heydar Aliyev Cup in Azerbaijan opened cautiously, as did his opponent. The scores were tied at three all after the opening 3 minutes of play. But in the second round, the 14 year old went all out with his hard hitting blows. Malik seemed to have no answer to the barrage of punches Naveen was throwing at him. The Indian eased his way into the semi-finals of the championships with an 18:9 victory on points. He will now take on Russia's National Junior Championships silver medallist Dzabrail Vizirkhanov next.
In contrast to Naveen fight, Sandeep bout turned out to be a closely fought battle. Up against featherweight favourite Huascar Ramirez of the Dominican Republic, Sandeep, a gold medallist at Kazakh Junior National Championships, was down two points after the opening round. He cut down the lead to a point in the second. In the third though, the 15 year old made a stunning recovery with the help of some body blows and upper cuts. He went on to secure his place in the semis with a 9:8 win, where he will meet Aliyor Noraliev of Uzbekistan.
But there was disappointment for India as Lalitha Prasad Polipalli (48kg) and Manish Kaushik (52kg) lost their quarter-final bouts in the championship. Polipalli, the reigning junior national champion had fought well in the pre-quarters to get the better of England's European Junior Championships silver medallist Luke McCormack. But today, Asror Vohidov of Tajikistan proved to be too strong for the light fly weight boxer, although Polipalli did not give up till the very end. He went down 13:16 on points. In the light bantam weight division, Manish too had shown great potential leading up to the quarters, but the 15 year old came up short against Sang-Myeong Ham of South Korea. Kaushik lost 10:17 on points.