AIBA Junior World Boxing Championship: Naveen in Finals; Sandeep Settles for a Bronze
792 //
29 Jul 2011, 20:01 IST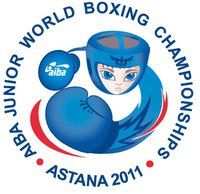 Naveen Kumar (50kg) marched into the finals of the second AIBA Junior World Boxing Championships in Astana, Kazakhstan with a resounding victory over Russian Boxer Dzabrail Vizirkhanov. Unfortunately compatriot Sandeep Kumar's (57kg) campaign at the world championships came to end at the hands of Aliyor Noraliev of Uzbekistan. While Sandeep will have to make do with a bronze medal, Naveen is assured of at least a silver medal from the tournament.
Playing in the fly weight division Naveen beat Muradov Malik of Azerbaijan handsomely in the round of eight. The gold medallist at the 2011 President Heydar Aliyev Cup in Azerbaijan had to go against Russia's National Junior Championships silver medallist Dzabrail Vizirkhanov now. And Naveen did not disappoint, the 14 year old was his usual aggressive self in the semi-finals taking the lead early on.
With his clean and accurate strikes, Naveen continued to build on his advantage, never allowing the Russian Boxer to settle down.  He went on to secure his place in the finals with a 13:5 victory. In the summit clash he will lock horns with Pat McCormack of England on Saturday.
The Manager of the Indian team Dr CK Jerath was extremely pleases with Naveen's performance and believes the services boxers will hail in the final as well. He said, "Naveen has been inspiring throughout the tournament, his technique and strength have been exceptional and we believe he will come good in the finals as well".
In the feather weight division Sandeep did not have such an easy championship, roughing his way through the quarters, where he came back from a two point deficit to beat favourite Huascar Ramirez of the Dominican Republic. In the semi-finals, up against Aliyor Noraliev of Uzbekistan, the reigning sub-junior national champion seemed out of sorts and could not get a good rhythm. He was on the back foot from the beginning with Aliyor taking complete advantage. The Uzbek boxer beat the Indian with a score of 10:4 on points. The 15 year old will have to settle with a bronze medal performance.