Chhote Lal bows out of Senior Nationals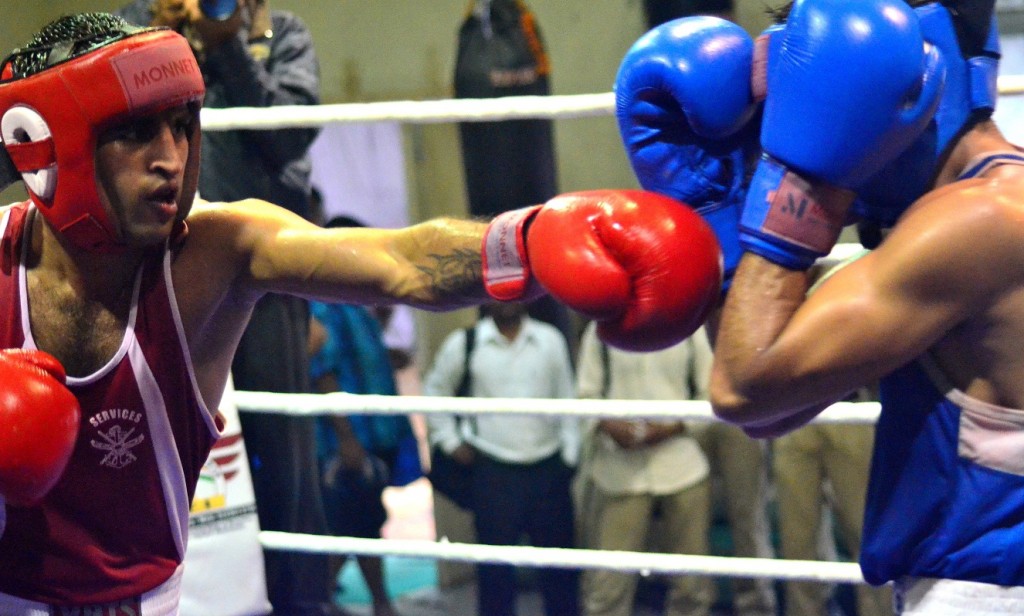 The services team suffered a major setback in the 59th Sahara Men's National Boxing Championship, with 2010 South Asian Games gold medallist Chhote Lal Yadav losing out in the quarter-finals of the bantam weight division. The 24-year old put up a good fight against some power hitting from S Santosh Singh of Manipur, but in the end came up short. Yadav a 2011 senior nationals bronze medal winner was slow off the mark and Singh – a contemporary of Yadav's from junior level – took complete advantage of his sluggish start. A warning given by the referee for holding added to the army man's woes. By the end of the first round he was down a three point deficit (3-6). The next round was an intense three minutes of play with both the boxer going all out. Chhote Lal though, was unable to reduce the margin, with each securing 5 points apiece. With fatigue setting in, Chhote Lal's attacks became wavered and Singh, who seemed to be in a better physical state, took complete control of the bout. In the end the 2006 Junior World Boxing Championship silver medallist went on to make a place in the semi-finals with a decisive 17-11 win on points. The Manipur boxer was extremely happy with his performance and said he was under no pressure going into the bout.
"I have sparred with Chhote Lal many times in training camps before and I know his game. I have been working very hard for this tournament and I was sure of making it into the semi-finals," he said. Singh, who has been in and out of the national circuit for the last couple of year due to back problems, says he is looking forward to this tournament as his big break and his ticket into the national camp.
He expressed: "The last couple of years have been tough, but I am physically fit now and hoping to get into the national camp with a good performance in the nationals." He now takes on Ashish Gautam of Uttar Pradesh in the semi-finals. In the other half of the draw last year's bronze medallist V Durga Rao of Karnataka made a place in the penultimate round with a victory over Yudh Veer of Madhya Pradesh. He will now compete against Haryana state champion Ajay Kumar of in the semis.
Amandeep and Nanao advance towards a final clash
Meanwhile, Commonwealth Games bronze medallist Amandeep Singh of the Railways and 2009 Asian Championship gold medallist Nanao Singh of the Services team continued their winning streak and advanced into the round of 4 of the light fly weight category. Both the fighters registered easy wins against their respective opponents to inch closer towards a clash in the finals. While Amandeep defeated Salman Anwar Shaikh of Maharashtra, Nanao overpowered Vinod Kumar of SPSB. Local lad K Sagar's nationals' campaign came to an end at the hands of last year's silver medallist Pankaj Saini of Punjab. But the 19-year-old – playing his first Senior National Championship – has already shown much promise in the ring and has the potential to go the distance.
Build up for another keen contest
Another keen contest is now set up for the semi-finals of the fly weight category. Bronze medal winner at the 2011 International Boxing Tournament in Kazakhstan Santosh Harijan will lock horns with Madan Lal, a silver medallist at the 2011 Tammer International Boxing Tournament in Finland. This would be the first time the two will compete against each other in competition and all indications are for an interesting battle as both the pugilists are competent fighters and have very distinct styles of boxing. Delhi boxer Gaurav Bidhuri too assured himself of at least a bronze medal finish after defeating local V Bala Krishna in what was an exciting contest. In the round of four he will square up against Mahminathan from Karnataka. In the welter weight class multiple national champion Dilbagh Singh was his crafty self as he got rid of Andhra boxer K. Surender with consummate ease. In the next round he will meet Madhya Pradesh boxer Manish Uikey.