Indian Women Boxers all set for 12th March Islampur
701 //
08 Mar 2011, 14:27 IST
NORTH INDIA SET TO WITNESS A FIERCE COMPETITION AS WOMEN PUGILISTS GEAR UP FOR A BATTLE OF CONTENTION
Come 12th of March, 2011, the village of Islampur near Gurgaon, Haryana, will give birth to new aspirations, desires and dreams. As the village plays host to the 5th Senior Women North India Boxing Championship from March 12-13, 2011, a fiery competition is up for grabs. Acclaimed and emerging pugilists from the northern region of the country will be seen taking on each other in an unrelenting battle of contention.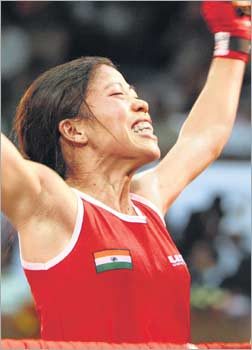 The fifth edition of the competition will comprise of five teams (Haryana, Punjab, Chandigarh, Himachal Pradesh, Jammu and Kashmir) with ten participants each, battling it out for the top honors in 10 respective weight categories. Amongst the many contenders vying for a top finish, a few names to look out for are Daljeet Kaur and Renu Bala in light fly weight and super heavy weight categories respectively. Both these players form Punjab finished as bronze medalists at the the 11th Senior Women National Championships held last year. Some promising names representing Haryana are Neetu in 48 Kg, Neelam in 51 Kg and Suman in 60 Kg weight category. The competition last year saw Haryana bag the top spot followed by Punjab finishing second and Chandigarh coming in third.
With women boxing at a rise worldwide, competitions like these are a need of the hour for boxing to strengthen its hold in the country. It is a brilliant opportunity for our rural populace to connect with the sport and make their footing. "This tournament is an excellent effort towards the promotion of the sport in North India. It provides the players with an exceptional opportunity to gain experience and hone their skills. The organization of such events is a fine example of the development of boxing on grass root level", says Dr.CK Jerath, President, North India Boxing Association. The event also serves as the selection ground for shortlisting boxers for the 2nd Inter-Zonal National Women Boxing Championship 2011,to be held at Guntur, Andhra Pradesh at the end of the month.
Warm Regards
Brig PK Muralidharan Raja, SM, VSM
Secretary General
Indian Boxing Federation