The Cavinder twins have taken over basketball and social media this year. Hanna and Haley Cavinder, who play for Miami, have become some of the most popular faces across the internet.
According to On3, the twins reportedly make over $1.7 million annually between the two of them. They are among the faces of NIL deals with Miami Hurricanes women's basketball, also receiving NCAA sanctions for their NIL-related recruiting.
Miami made it to the Final Four of the NCAA Tournament this year before it was eliminated by Angel Reese and the LSU team. Haley Cavinder started all 35 games for the Hurricanes, averaging a team-high 12.2 points, 4.9 rebounds and 2.5 assists.
The two also recently announced that they would not return to Miami for a fifth year.
The Cavinders' NIL deals
Over the past 12 months, the twins have partnered with over 31 brands, including GoPuff, Crocs, and Venmo. The twins are two of the most notable college influencers with over five million followers on TikTok and over one million followers on Instagram.
It is a wide-ranging list of sponsorships and partnerships that the twins represent. From footwear to fast food as well as being signed to the WWE, there is plenty that they are involved in.
Haley and Hanna sit right near the top of the richest NCAA women's players in history with an estimated net worth of $5 million. In addition to their NIL deals, the Cavinders also make plenty of money off their social media directly. They are estimated to earn between $70-100,000 per Tik Tok post due to the creator fund and the two remain active on the platform. The duo are also on Cameo in which they charge $75 per personalized message.
With their time at Miami now officially over, it will be interesting to see what the twins do next. They are not shy about options and already have quite a few routes available to them. If one thing is certain, both possess the charisma and intelligence to capitalize on future opportunities.
There will surely be clarity on their future plans soon, but this is far from the last time we will hear about the Cavinder twins.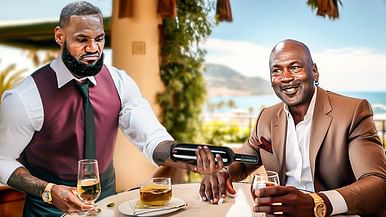 How is Michael Jordan officially richer than NBA's 10 richest players?!