At a time when streaming services are competing for dominance, HBO Max's Velma has really left people questioning why the series even got greenlit in the first place.
The series, starring Mindy Kaling, has been labeled "woke garbage" by several viewers, but critics have also trashed the series. People have expressed their anger on Twitter as well as Rotten Tomatoes.
In particular, the shower scene in the series has attracted a lot of backlash from fans, with one critic writing, "A raunchy shower scene with fifteen year old girls?... Adult show or not, you don't cross that line!"
---
Velma's questionable narrative has fans slamming the show
The Office star Mindy Kaling is the showrunner, writer, and voice artist behind Velma. The series is a reincarnation of Scooby Doo, which brings Velma to the forefront for the first time. While some questionable changes have been made to Fred and Daphne, Shaggy has turned into an entirely different character. Furthermore, there is no sign of Scooby so far in the series.
The official description of this 10-episode series states:
"At Crystal Cove High School, Daphne (Constance Wu) is a popular mean girl orphan who deals drugs because of a dark family secret. Her boyfriend Fred (Glenn Howerton) personifies mediocre white richness. His mansion holds a dark secret - and he has teeny widdle privates, a subject of much conversation. "Shaggy" has become Norville (Sam Richardson), a school-newspaper striver friendzoned by his beloved Velma. He worries he's a beta male; remember that lame humor concept from 20 years ago?"
This description itself cast doubts upon the quality of the series, as it turned away many fans. Several people also did not spare Mindy Kaling at all.
---
Velma's performance and reviews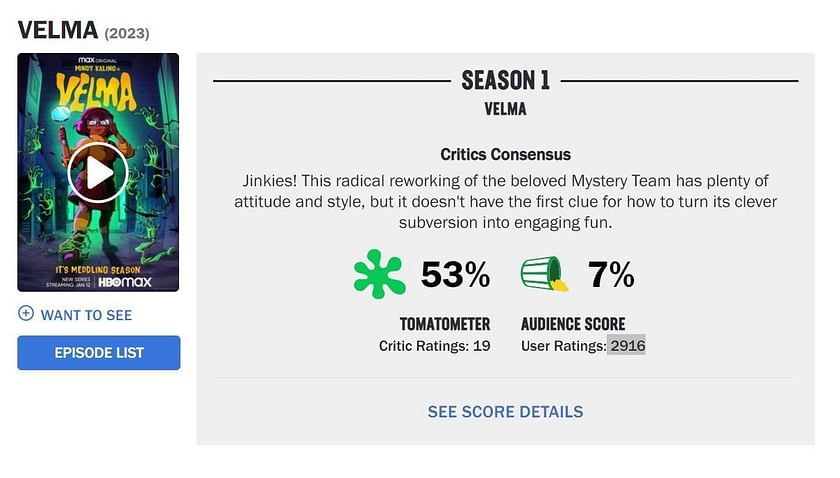 The show's Rotten Tomatoes score isn't the worst of all time, as it has got a 53% rotten score with 19 reviews in total. But it's worth noting that this score would go down if more reviews were to come in. As far as the fan reviews are concerned, the Audience Score stands at an embarrassing 7% out of 2916 user ratings.
It also has a 1.6 rating on IMDb, so this sort of fan reception was certainly expected. But the fan reviews mentioned on Rotten Tomatoes show what people hate about Velma in particular.
Being an animated adult series, the first episode itself began with a shower scene involving naked girls fighting each other. Right off the bat, the scene caused viewers such as ClockworkEclipse to lose interest in the show.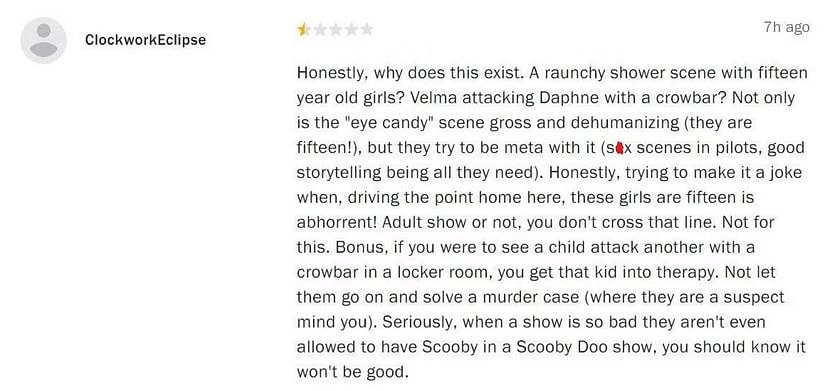 Darren S gave the series just 1 star and wrote:
"Horrible show !!! If you watch this series you will become dumber!! Take a cartoon characters that people grew up on and absolutely destroys everything!!!"
David P gave it half a star, stating:
"I thought the new "Willow" series was bad. "Velma" proves the bottom of the barrel is not as low as one can go."
User Devin described why the series failed, while Lindsey M deemed the show "the worst thing."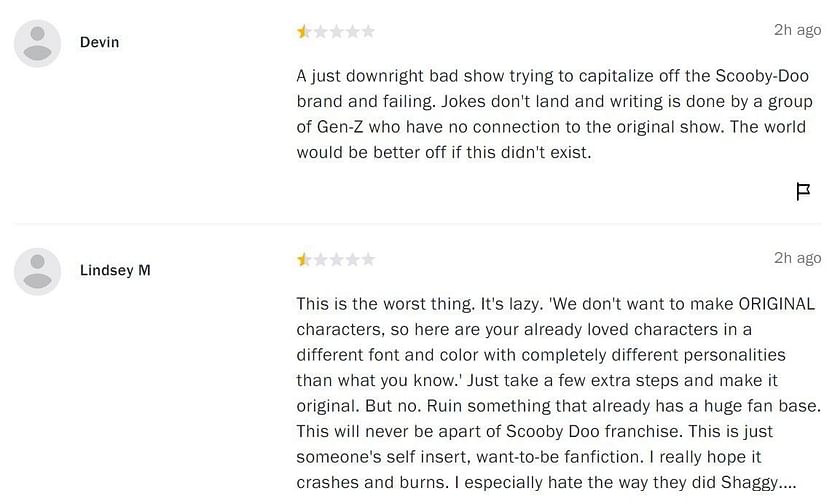 Lee M wrote:
"Not much I can say, its so bad lol. I'm not necessarily against taking popular IP and doing something new but whoever green-lights these things doesn't deserve to be in the industry."
Will M also gave the series half a star and stated:
"I'm utterly shocked this exists. I HAVE to believe it was made this bad intentionally. I refuse to accept that this show was made on the grounds that the creators thought it would be a proper re-imagining of the Scooby Doo characters... Who is this for???"
All in all, the dislike for Velma is quite evident, leading to several people asking for its cancelation on Twitter. So far, just two episodes have arrived, and it's highly unlikely that the fan verdict will change with the rest of the episodes.
Episodes 3 and 4 will be released on January 19, 2023.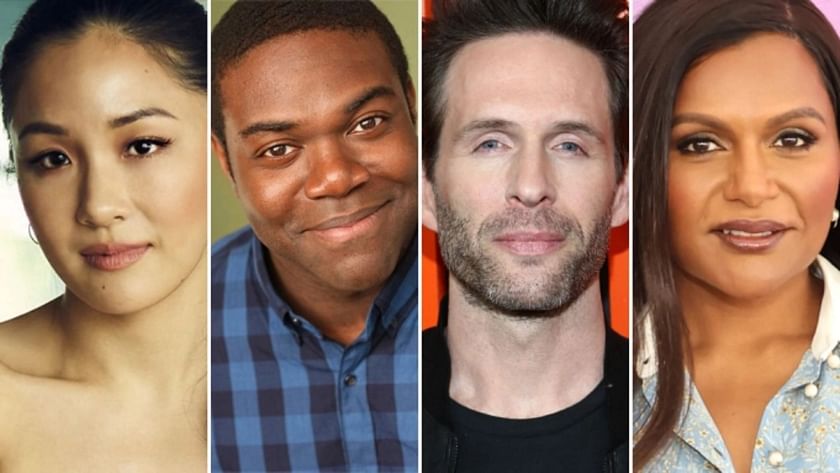 The series stars Mindy Kaling as Velma Dinkley, Constance Wu as Daphne Blake, Sam Richardson as Norville "Shaggy" Rogers, Glenn Howerton as Fred Jones, Russell Peters, Melissa Fumero, Ming Na-Wen, Debby Ryan, Shay Mitchell, and "Weird Al" Yankovic.