3rd December, 2009: Sehwag scores 284 runs in less than a day
1.64K //
03 Dec 2012, 11:25 IST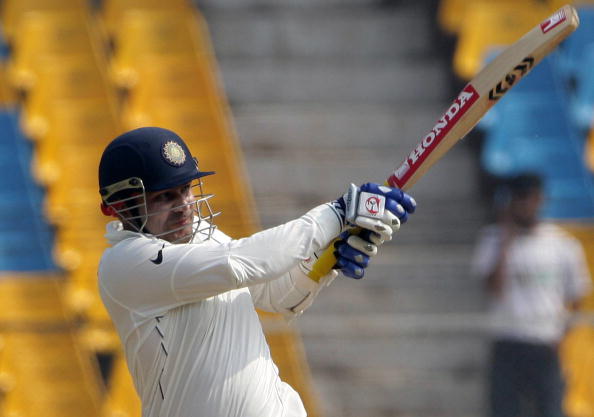 It was an artist at work. He made the art of batting look absolutely easy. He took a leg-stump guard at 10 AM in the morning, and by half past four in the afternoon, he was unconquered at 284 runs. Those six and a half hours of pure ecstasy included a lunch and tea interval. The Nawab of Nazafgarh made us realise that when he is at work, words are less to describe his talent. The mellifluous metaphors are a cliché after a while. Who says Test cricket is boring? Certainly thousands of people, who were at the Brabourne Stadium on the 3rd December, 2009, would tell you how a smiling assassin named 'Veeru' spread joy amongst them.
The first session:  (53 off 60 deliveries. Fours: 5, sixes: 2)
Virender Sehwag started off his innings in blistering fashion by driving Nuwan Kulasekhara straight for a boundary. He employed a characteristic cut shot off left arm fast bowler, Welegedara, who bowled a couple of short and wide deliveries. When the spinners were introduced, Sehwag welcomed them with big shots.
Left-arm spinner Rangana Hearth's second ball was lifted over long-on by Sehwag. A couple of overs later, Sehwag hit a Herath for a straight six and brought up his 6000 runs in Test cricket. He brought up his 50 off 53 deliveries just ten minutes before the lunch interval.
Post-lunch interval: (151 off 131 deliveries. Fours:19, Sixes:5)
Sehwag started the middle session with a delectable late cut off Angelo Mathews, which raced to the boundary. Muralitharan was reverse-swept for a boundary past backward point. In the off-spinner's next over, Sehwag played against the spin and crashed Murali past the cover point. In Murali's next over, Sehwag cut him past point. Sehwag then danced down the track and lifted Murali over long-off for a huge six. Murali had a quizzical expression on his face while Sehwag had a big smile on his face. He was playing a game of cat and mouse with the world's best bowler.
Sehwag was batting on 92, when he charged down the track to Herath and hit him straight for a boundary. Sehwag repeated the same shot off the next delivery but mistimed it for a single. Sehwag admonished himself. The adventurous Sehwag then paddled Murali for a boundary and brought up his 17th Test ton. Krishnamachari Srikkanth, the chairman of selectors, was whistling and cheering Sehwag as well. The thousands in the stadium were treated to a brilliant display of batting. But they wanted more.
Sehwag then slog swept Herath for his fourth six and Sri Lankans were beginning to look a bit nervous. Murali Vijay was giving great company to Sehwag and the duo brought about a double-century partnership. Sehwag celebrated that feat by hitting a six and a boundary off Hearth. The six was hit over long-on when Herath came over the wicket and the next delivery was hit inside-out over cover fence. Vijay got out on 87, and the 217 run opening stand gave India a solid platform to post a big total. Sehwag was suffering from a lower back problem just before the tea interval. He was batting at 151 during the tea interval.
The last session (284 off 239 deliveries. Fours: 40, Sixes:7)
Sehwag cut Welegedara off a boundary and then hit him inside out for a six in the same over. It was unbelievable. Things looked ominous for Sri Lanka. Sehwag was in a mood to play with the Lankan attack. He walked right across his stumps and whipped a full delivery to midwicket. He then hit the left-arm fast bowler over mid-off for another four. When Sehwag was batting at 184, he hit Kulasekara for four boundaries in an over to bring about his sixth double hundred. This double hundred was scored off only 168 deliveries. The Mumbai crowd was treated to something special. There was consternation in the Sri Lankan camp.
The over-the-wicket ploy employed by Herath was proving too expensive. Sehwag was reverse-sweeping some deliveries and hitting inside-out shots off the others. Sri Lankan captain Kumar Sangakkara was at his wits' end. Muralitharan was again treated with scant respect in his third spell of the day. A six over long-on was how Sehwag welcomed Murali. Murali had failed to bowl a single maiden over for 63 overs in the series. That was the measure of his struggle. Sehwag's onslaught was just adding insult to a lot of injury that was being inflicted to Murali. Sehwag reverse swept Murali to bring his 250. It was his fourth score in excess of 250 in Test matches. Muralitharan's figures read 19-0-118-0. And this is the world's leading wicket taker we are talking about.
At 272, Sehwag offered his first chance. He tried to cut Dilshan past Mahela Jayawardene, who was standing at first slip. Mahela floored the chance. Sehwag hit his 40th boundary off Dilshan in the penultimate over of the day, when he cut the part time bowler through the covers. It was an absolute carnage.
In the morning Sri Lanka would have thought they were safe after scoring 393. But India was 443 for the loss of one wicket. The six and a half hours of cricket had hurt Sri Lanka. Sehwag was on the verge of becoming the only Test cricketer to score three triple tons. Sehwag was statistically only four boundaries away from that incredible feat. But he missed this landmark by seven runs. That was an emotional moment for the fans that turned up with a lot of expectations on the 4th December, 2009. Some of the people had specially come from Ahmedabad just to watch history being made. They were disappointed but proud of Sehwag.
But the 3rd of December 2009 belonged to Virender Sehwag. I was lucky to be on the ground. My day was made. The innings is still fresh in my mind as if it was played only yesterday.