"I'm not overconfident. Like all humans, I've got my weaknesses and insecurities" - AB de Villiers
3.44K //
17 May 2014, 12:19 IST
A great person once said that the future belongs to those who believe in the beauty of their dreams. Abraham Benjamin de Villiers is one such person who managed to convert his day dreams into reality to become one of the best sporting stars of modern era. Born in South Africa, de Villiers's love for cricket overpowered his liking for other sports like rugby, tennis and golf.
"I started playing cricket at a very early age, not seriously but for fun and games with my two elder brothers in the backyard. Having older brothers was the best part of growing up for me because they challenged me and pushed me to the limits. Cricket was always there but never really in a serious way until I was about 16 or 17, when I joined the colts team in school," de Villiers told iplt20.com.
Despite being ranked as the No.1 Test batsman and No.2 ODI batsman by the ICC, de Villiers reveals that there are certain things about the game that he wished he had realized earlier. "From a very young age, you are brainwashed that you've got to work really hard, eat these many balls, do this and that. But I think the mental side is far more important. I realised that only at the age of 26 and I wished I did earlier, that there are so many things that are more important, like being positive and fresh ahead of your game," the 30-year-old said.
Referred to as the 'most complete cricketer' by many, De Villiers agrees that he has a lot in store for the youngsters. "I've been playing international cricket for 10 years now and so many things have changed. I should actually become a coach – I hate coaching and I'll never do it – but I think I have a lot to offer to young players coming out of school.
"I would like to give that back someday to someone who is just coming out of school, thinking that it's all go, go, go. I'd just like to slow him down and say, 'Listen, the most important thing is to know your own game, find out what your weaknesses are, eat less balls and think more about the game; think of how you are going to be an improved player in the next few years'. That speeds up the process of developing as a cricketer," he added.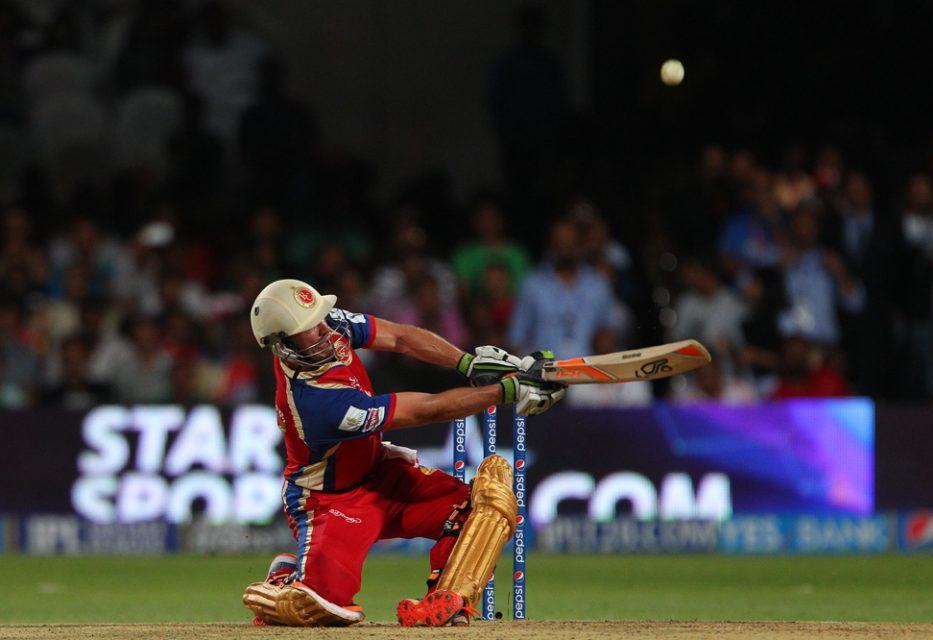 De Villiers, who is playing for the Royal Challengers Bangalore in the current season of the IPL has seen to perform match-winning knocks for the team under pressure. When asked if pressure makes him more relaxed, the modest de Villiers said, "I think it was more the case of me playing mind games with myself. The pressure is always there and it is important to challenge yourself that way by saying that you enjoy it. I think it is something no one can prepare you for. I started to experience it very early, at age seven or eight, and learned how to deal with it. When you climb higher levels, it just gets worse and bigger."
"I am playing for the Proteas, then suddenly I have this big IPL contract where the pressures are of a different kind; there are these huge crowds cheering for you and expecting you to do well every time." he added.
Australia's Jonty Rhodes, one of the best fielders of all times expressed his disappointment over de Villiers' job of wicket-keeping as that prevented de Villiers from his brilliant fielding. The right-handed explosive South African batsman, who is always active on the field expressed his love for fielding and said, "I love fielding! Yes, I am always involved in the game from behind the stumps and can also influence the game in a bigger way, but I really enjoy fielding. I can see where Jonty is coming from because I idolised him growing up and I loved the way he fielded."
De Villiers' hard work and talent has earned him the position of being South Africa's ODI captain and the probable Test captain. When asked how he feels about being almost perfect, he said, "I'm certainly not an over-confident guy. I know that like all humans, I've got my weaknesses and insecurities. There are areas where I'm not as good as some of the other players are. You just try to hide and minimise those weaknesses and maximise and display your strengths. I am always very critical of my performances even though I don't show it and people won't know it.
"I still feel there's a lot more room for improvement and there are still areas I can finish games better and win not only matches but tournaments. I will continue to dream. That's what we humans are like," the sports icon concluded.