Alastair 'Captain' Cook's One Day Challenge
841 //
07 Jul 2011, 00:41 IST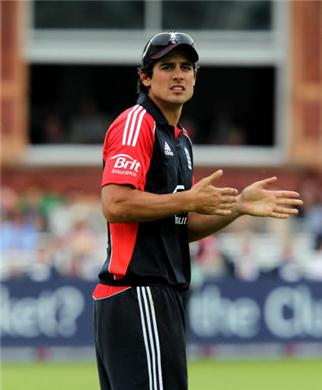 When Alastair Cook was named as England's new One Day International captain at the start of this summer, there was a sense of a new beginning. Andrew Strauss was relieved of his duties after a disappointing run of results which began with the ODI series in Australia at the beginning of 2011 and continued into the World Cup campaign, resulting in humiliating defeats at the hands of Ireland and Bangladesh, as well as a quarter final mauling from England's current tourists, Sri Lanka.
It was perhaps no surprise then that Captain Strauss fell on his sword, given his age and the fact he won't be around for the next World Cup, but what was a surprise perhaps was that Cook, who until his appointment was nowhere near inclusion in the ODI side on merit, was suddenly promoted to captain! Had he been a regular in the side then fair enough, but Cook wasn't even considered for the World Cup squad.
Cook, like Strauss, is a superb test batsman, arguably in the best form of his life, but by making him captain of the One Day set up, isn't the ECB basically accepting that they see the One Day side as a feeder programme for the test side? And if that is the case, can England really have any hope of competing at the top level of this form of the game when the top sides like Sri Lanka come to town? Are we not devaluing the One Day format by using it to blood new players and captains for the test team?
Cook is undoubtedly a future test captain for England, and what the selectors have done is give him the ODI gig to gain experience of captaining a side, which he wouldn't otherwise be able to acquire at county level for example due to England commitments. Fair do's, but having a non-specialist ODI opener in the side, just because he is the next test captain hardly complements the ODI side, does it? You wouldn't add Craig Kieswetter to the test side just to give him international experience for an ODI world cup now would you?
But then, as a nation, isn't test cricket our priority? So why shouldn't England's selectors plan accordingly? I would rather England win the Ashes then the ODI World Cup any day.
That said, I personally don't believe it would have been to the detriment of the test side if the ODI captaincy had been given to an established member of the ODI side. I think Cook would still have done a good job as test captain without having this ODI work experience.
What about giving the ODI captaincy to someone like James Anderson? He's been England's best bowler for years and has always been involved in ODI cricket, maybe he deserved a shot? and it would have provided a different dynamic to have a bowler as captain, perhaps resulting in more aggressive field placings when England are in the field for example.
Another issue that Cooks' promotion has raised is the fact that in both he and Jonathan Trott, England now have 2 specialist test batsmen in a limited overs top 3. Both players are in fine fettle in test cricket and Trott showed in Australia and in the world cup that he could play One Day cricket too, but having both of them in the line up really does put pressure on Cooks opening partner, currently Kieswetter, and the number 4, currently Pietersen.
Personally, I liked the idea of Pietersen opening in the world cup, I thought it was a bold, aggressive move that showed England meant business, and certainly England scored runs aplenty in their first few world cup games before Pietersen withdrew through injury, most notably against India in that remarkable draw.
Bell has also been mooted as a possible opener, and had Cook not been appointed captain, either Bell or Pietersen opening with Kieswetter could have been an option. That would also have meant England could have kept Trott, who has an average of 50 at a strike rate of 80 in ODI's in the side.
Bopara could then have been added to the middle order, a decidedly more aggressive batsman then either Cook or Trott
Of course there is no way Cook will be dropped now, and I wouldn't want him to be. He has been in marvellous form ocer the past 9 months or so and now he's been given the job he needs time to make his mark. What may well happen though is Trott may be sacrificed, which seems unthinkable seeing as he was voted England's player of the year recently.
Cooks reign as captain started well enough with victory over Sri Lanka at the Oval. England will hope they can bounce back today at Trent Bridge, and get Cook's campaign as captain back on course.
England have tried to mix things up and set a new precedent in having 3 captains for the 3 different formats of the game, it's just a shame perhaps that they didn't do that with the best interests of each off those formats in mind.