Are Kumble and Srinath doing justice to Karnataka?
913 //
12 Nov 2012, 16:13 IST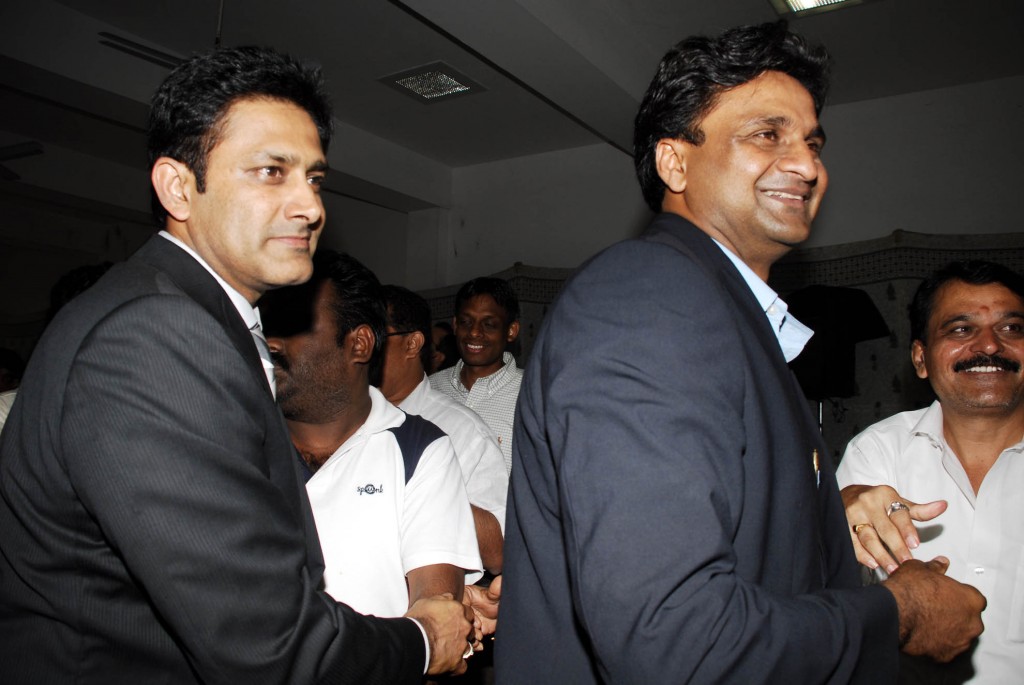 When the world's best-known bowlers, Anil Kumble and Javagal Srinath, took over the reins of Karnataka State Cricket Association (KSCA) after a fiercely fought contest against Mysore's royalty Srikantadutta Wadiyar and former India cricketer Brijesh Patel, people expected great changes in the functioning of the unit and also hoped that the state cricketers would produce marvels at prestigious Ranji Trophy and hold fair selection trials.
The expectations were genuine and certainly not far-fetched for the duo who have been highly respected in the cricketing circles and have boasted of having a rather clean image. It's been close to two years since they formed their own team and started looking into the functioning and growth of the game in Karnataka, a state that has produced world class cricketers.
However, if one takes a closer look at what the stars have pulled off over the past year or so the consequence hasn't been mind-blogging. They have renovated the club house, a sum of Rs.7 crores being spent on it. They have recently unveiled busts of founder president M. Chinnaswamy among other prominent state players statues at KSCA, made seating arrangements on all stands of the stadium. The main gate also sports an electronic board that shows names of the state players. They have made KSCA look a little less than a seven star venue, quite an attraction for cricket buffs.
Apart from that, if one has to talk about the performance of the state Ranji team, it's been surprisingly dull. In fact, the team has deteriorated from being runners up three years ago to being knocked out of the top six stage by little known teams in the Ranji Trophy.
Now the downfall of the Ranji squad could have quite a few reasons, but among them the most prominent one seems to be the ouster of coach Sanath Kumar who had made great amends in the team that given champions like Mumbai and Rajasthan a run for their money.
Today, Sanath Kumar is coaching Baroda. The same team who drew against Karnataka with innings lead in the opening game of Ranji Trophy this season.
It's not that Karnataka does not possess match winning coaches after Sanath left for greener pastures, with Baroda offering more money and better prospects for him.
But what's not clear is that those who could have possibly made a great difference in the team's performance have been given a go-ahead to coach other state teams.
Take for instance, Venkatesh Prasad, former Indian bowling coach, who was appointed as the coach for Uttar Pradesh this season. Couldn't the President and Secretary (Kumble and Srinath respectively) retain Prasad to use his expertise for our own team? Prasad also being the vice-president chose to coach UP.
On his appointment as coach Prasad stated: "It shows the intention of the respective associations to embrace professionalism and make a mark. It also points to the rich cricketing tradition of the state. Karnataka have always produced high-quality cricketers and this is just a consequence."
Fair enough. But what about the intentions of our own state association?
Apart from Prasad, KSCA has given a nod to former India batsman Sujith Somsunder who is coaching Kerala, Sunil Joshi appointed as Ranji coach for Hyderabad and former pacer Dodda Ganesh is Goa's coach this season.
Why didn't we make use of their expertise? Don't we have enough money to lure them for their services?
South India has certainly become a hub for Ranji Trophy sides to poach coaches. They are even offered a lucrative deal for their services.  "When you are are paid well, the accountability factor comes into the picture," opined Sujith Somasunder who is also an executive committee member of KSCA.
Meanwhile, Prasad's ambitions are certain. He wants to return to coaching the Indian side. "My ambition is to coach the Indian team. My stint with the senior team was an enjoyable experience and the team did well," he admitted quite honestly.
Joshi, after 19 years of playing domestic cricket, has begun a new innings and he feels that having an international tag helps in getting the breakthrough.
'If you are an international, it comes as a plus at the start and you also enjoy a slight edge. But over a longer period, only the performances of the team counts,' said Sanath, under whom the Karnataka Ranji team rose to new heights.
So, what happens to the performance of Karnataka this season? Are we going to do better this season? Are J Arun Kumar (batting coach) and MA Khan (bowling) good enough to better Karnataka's performance if not match the results three years ago?
These are some questions Kumble and Srinath will have to answer in due course of time depending on the team's performance this season.