Bowlers make hay in Inter-University cricket
700 //
17 Dec 2012, 22:45 IST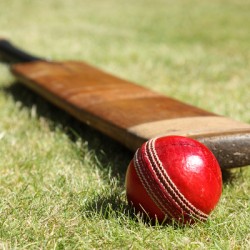 Manipal - Bowlers dominated the proceedings in the South Zone Inter-University Cricket tournament here Monday resulting in low-scoring matches.
In all the five matches played, there were just three batsmen who hit up scores worthy of mention. University of Kerala and KLE Belgaum moved up with walkovers from Tamil Nadu PE&SU, Chennai and NIT, Calicut, respectively.
Arjun M scored 84 to steer the University from Kochi to beat Aditya Nannaya University, Rajahmundry by three wickets. The losers owe their 144 in 35.2 to a well-made 52 by Aditya.
The only other good knock came from Bharath N of the University of Mysore. He hit up an unbeaten 61 with seven fours and two sixes to ensure his side beat Rayalaseema University of Kurnool by 10 wickets. The pick of the bowlers was Ashish Kumar of MSU Tirunelveli which beat SCSVM Kanchipuram by six wickets.
At Manipal University Ground 1: Alagappa, Karaikudi batting first after winning the toss were bowled out for 63 by JNTU, Anantpur who lost only one wicket in getting those runs. Alagappa, Karaikudi 63 in 23 overs: (S. Mohammed 14, M Murali 15 n.o. Chekkri Reddy 3 for 24 and S Masthan 3 for six. JNTU, Anantpur 64 for one in 14 overs: (Y Keshav Kumar 36 n.o and Pradyush 16 n.o).
At Manipal University Ground 2: Cochin University of Science and Technology, Kochi managed a three-wicket win over Adikavi Nannaya, Rajamundry. Adikavi Nannaya, Rajamundry 144 in 35.2 overs: (Aditya 53, Chaitanya Kumar 32, Ravi Teja 11. Vaishnav 3 for 17, Manuvijayan 4 for 32, Sawas 2 for 13). Cochin University of Sc and Tech, Kochi ( Arjun M 84, Vishnu CV 14. Amaleshwar Rao 2 for 24, Aditya 2 for 28, Sathyanarayan 2 for 16).
At SMS PU College, Brahmavar: In another low-scoring match Krishna University, Machilipatnam beat T Gandhigram Rutal I University, Chennai by nine wickets. Gandhigram Rural, Chennai 57 in 26.4 overs: (M Paruppaswamy 25, M Vigneshwaram 10. Ganesh Kumar 4 for 14, P Nageshwar Rao 2 for 16, Manu Reevanth 2 for 17, PNS Swamy 2 for 5). Krishna, Machilipatnam 58 for one in 5. 4 overs: (USRC Gautam 35 n.o [21 balls, seven 4s]).
At MGM College: SCSVM, Kanchipuram made their exit going down to MSU Tirunelveli by six wickets. SCSVM, Kanchipuram 74 in 25.2 overs: (Mathan Kumar 10, A Vinoth 13. Anish Kumar 6 for 31, Mariya Amirthan 2 for 13). MSU, Tirunelveli 78 for four in 27.4 overs: (M Parthiban 14, Shanmuga 35, N Arunraj 17. A. Vinod 2 for 20 and Mathan 2 for six).
At MIT: University of Mysore beat Rayalaseema U. Kurnool by 10 wickets. Rayalaseema Kurnool 106 in 36.1 overs: ( Manjunath K 14, Shaik Shabbir 12, Naveen Kumar 15, Sinchan H 4 for 11 and Bharath N 2 for 26). University of Mysore 110 for no loss in 16 overs: (Bharath N 61 n.o. and Fahad 24 n.o).