Brian Lara to play alongside Sachin Tendulkar for MCC in Lord's bicentenary match
39.88K //
29 May 2014, 12:48 IST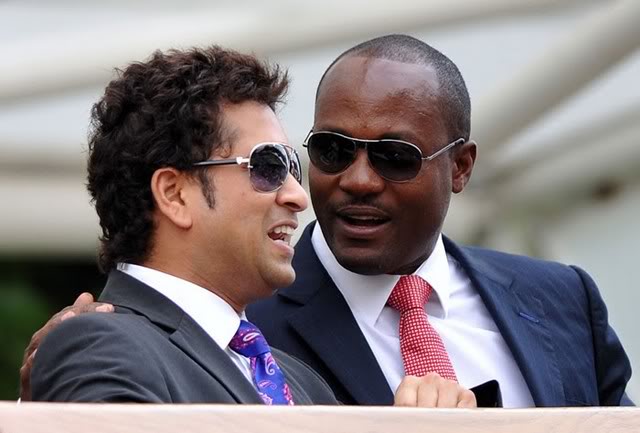 The former West Indian batting great Brian Lara is the latest addition to the MCC XI team captained by Sachin Tendulkar which also includes Rahul Dravid, Saeed Ajmal and Shivnarine Chanderpaul.
"Lord's always holds a very special place in any cricketer's heart, and I am very much looking forward to helping celebrate its Bicentenary with MCC," said Lara after being included in the XI.
The club is respected worldwide for the game's 'Laws', by which cricket's rules are known.
As part of the MCC's bicentenary celebrations, a 50-over match is scheduled to take place on 5th of July at Lord's. Also joining the MCC XI are the former Australian speedster Brett Lee and New Zealand's Daniel Vettori.
No. 1 batsman in T20 international cricket, Aaron Finch, along with another Australian Peter Siddle, find place in the MCC side. Former Test wicket-keeper Chris Read also has been included in MCC's XI.
They will be up against a formidable team, named Rest of the World XI, that also has some big names in Adam Gilchrist, Virender Sehwag and Yuvraj Singh and Kevin Pietersen, led by the great Shane Warne. Where Sachin and Lara provide an epic combination for MCC, RoW XI will see Warne partner with another great of his era, Sri Lankan Muttiah Muralitharan.
Speaking about the the match, Pakistan's Umar Gul, who's been included in MCC XI, said, "It was an honour to be asked to be involved and it will be fantastic to play at such an iconic place on such a special occasion. Playing at Lord's is different to playing at any other ground in the world. There is something magical about it and it will be a pleasure to come back and help MCC mark the current ground's 200th year in this match."
West Indian Tino Best, subject to his availability due to international and club commitments, has been added to RoW XI.
In order to make sure there is at least one representative from all the Test playing nations, they have roped in Bangladesh opener Tamim Iqbal for the Rest of the World team. In all probability he will be opening the innings alongside the legendary Adam Gilchrist.
The ground was named after Thomas Lord, the then owner of the ground after the MCC moved to its present site in 1814. The club was founded in 1787.
The teams:
MCC XI: Sachin Tendulkar (Ind, capt), Saeed Ajmal (Pak), Shivnarine Chanderpaul (WI), Rahul Dravid (Ind), Aaron Finch (Aust), Umar Gul (Pak), Brian Lara (WI), Brett Lee (Aus), Chris Read (Eng, wk), Shaun Tait (Aus), Daniel Vettori (NZ).
Rest of the World XI: Shane Warne (Aus, capt), Shahid Afridi (Pak), Tino Best (WI), Paul Collingwood (Eng), Adam Gilchrist (Aus, wk), Tamim Iqbal (Ban), Muttiah Muralitharan (SL), Kevin Pietersen (Eng), Virender Sehwag (Ind), Peter Siddle (Aus), Yuvraj Singh (Ind).