Can Afridi reinvent himself to prolong his stay in the Pakistan team?
2.32K //
27 Dec 2012, 08:52 IST
Shahid Afridi will openly tell you that batting hasn't been his most over-riding priority since his bowling prowess came to the fore. However, in light of his recent form, he may want to get reacquainted with his bat if he is to keep his place in the Pakistan team. At the beginning of a series tour involving India and Pakistan, the man nicknamed "Boom Boom" hasn't been firing on all cylinders (bat and ball) for sometime, and as a consequence has been dropped by the selectors for the upcoming One-Day internationals against their neighbors.
In the part of the tour that he can play – the first Twenty20 match – Afridi returned with figures of  1-26 with the ball and mustered 3 runs from two balls although admittedly, the match was near its end as Shoaib Malik was able to seal Pakistan's victory to silence the 36,000 packed-house in Bangalore. ODI captain Misbah ul-Haq intimated that Afridi could force himself into selection for the latter part of the series if he performs well in the 20-over format and all rests on the second game on Friday, to see if the 32-year-old can pull off a performance that might brush away any doubters who claim that his time is nearing its end.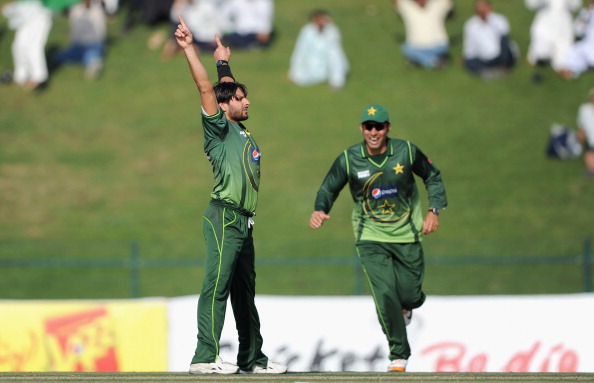 An analysis of Afridi's form in Twenty20 – a format of the game in which he excels in and which has led to subsequent deals with domestic teams in England, Australia and Bangladesh – shows a worrying concern.
In 2009, Afridi was in typically entertaining form and was the man who was inspirational (alongside a devastating Umar Gul) in guiding Pakistan to victory in the World Twenty20 held in England. He picked up 11 wickets at an average of 5.32 but also surprisingly, notched up 176 runs at an average of 35. The latter statistic is remarkable considering that his batting strategy consists of attempting to hit every ball clear of the boundary lines no matter what position the game might be in. It is worthy to note that Afridi contradicted his own attacking instinct by producing measured, slightly fortunate knocks of two consecutive fifties in the semifinal (vs. South Africa) and the final (vs. Sri Lanka) which were the backbone of the team's success.
But his supporters, who despite accepting his weaknesses and still chant his name to the rafters amid excitement, can't deny that his biggest asset has seen a sharp decline.
If you include the Twenty20 tournament in England, Afridi had picked up 32 wickets  at an economy rate of 6.35 per over. Since then, until now, he has got 30 wickets at an average of 6.43. It might be suggested that his statistics prove he is still the player of a few years ago; his wicket haul in Twenty20's (63) is still in the top three in the world. But his performances suggest a different story. A bowler who dazzled opposition batsmen and left them in a quandary as to what type of ball he would deliver is now being worked out. Hence why, India's Yuvraj Singh, in the first Twenty20 game, beautifully dispatched Afridi's first ball to him for a six that resulted in a brief delay whilst the ball was returned – so far was the distance it traveled.
His performance in the Twenty20 World Cup in Sri Lanka brought further scrutiny, where he picked up four wickets and predictably, contributed nothing major with the bat. A section of Pakistan supporters are calling out for an injection of youth and for experience to be quickly discarded in an attempt to bring new hope for the future of the sport. However, Afridi is still 32-years of age and has time to reverse his form and prove he is still needed. His cricketing reinvention may come with the bat, not the ball. His balling bag of tricks that was once scary to batsmen, has now become a tad predictable; the fear factor has faded but the name still brings palpable excitement to the audience.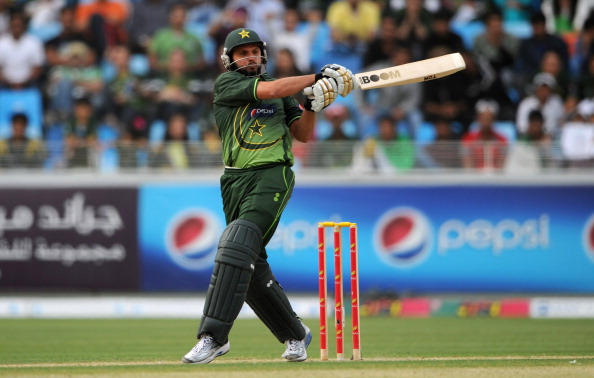 Afridi's batting strategy is akin to that of a 10-year-old playstation player who is reenacting scenes of his favorite cricketer via his joypad, by smashing every ball out of the ground. It seems the fright of being dropped can work on Afridi, as shown with his knocks 52 and 90 in the warm-up matches he participated in prior to the tour of India. Not much can be derived from that, other than he can rust up a good score if the bowlers aren't exactly international standard. But there is hope that if he really applies himself and he can  then, contribute with the bat. He showed that in the World Twenty20 in 2009, that he can curb his natural aggression but add a dash of discipline for the sake of his team's success.
If he needs a template on how to evolve his career, look no further to a Pakistan legend, former captain and World Cup winner, Imran Khan. By the time his final tournament rolled round in 1992, Khan had become a batsman who could bowl rather than in his heyday when he was predominantly a bowler who was handy with the bat. The reality of growing old and a desire for winning the World Cup to boost the donations for his late mother's cancer hospital was the 60-year-old Khan's motivation, but Afridi has always had a fan following that's remained supportive despite the disillusionments and he has a chance to remodel his game and leave the sport with a lasting memory.
Afridi needs to undergo this task on his own and with a huge dose of motivation. He is a Pathan after all, which installs ingredients of pride, honor and desire to be proud of one's achievements. The cricketing structure in Pakistan won't allow him to practice a new-found approach to batting, no matter how long he spends in the middle. Fortuitously for him, Pakistan cricket is littered with batting legends who he might be able to approach to ask for guidance. His former captain Inzamam ul-Haq, prior to the team jetting off to India, was hired by the Pakistan Cricket Board as a temporary batting consultant and advised his younger contemporaries to not fear and be aggressive. Afridi already has that, it's the technical and inspirational knowledge he requires if he is to sincerely remodel his game as he enters his mid-thirties.
Once that period of retraining and focus has been acquired, he needs to practice it with the few contracts he has with domestic teams abroad whilst utilizing any opportunity on the international stage. Afridi came to the cricketing world's attention when he made the fastest Test hundred against Sri Lanka in 1996 with a destructive stint of big-hitting; it would quite ironic and apt that he ended his career with a style antidote of how he began it.