Catches win matches: Top ODI catches ever
Here's presenting you a list of some of the best catches of the past.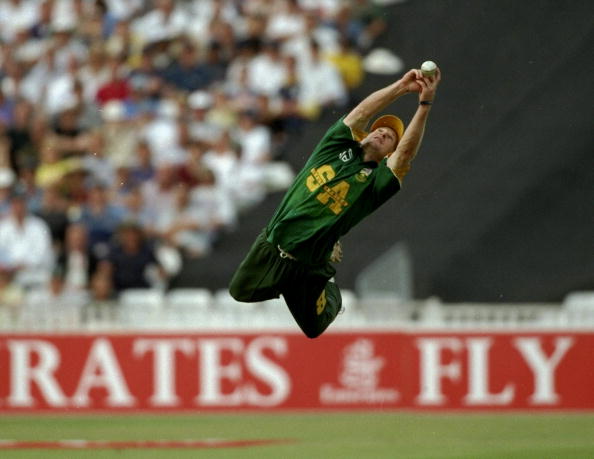 1.Mathew Hayden cuts this one from Harmison and Paul Collingwood times his jump perfectly to grab this one inside the 30 yard circle. One of the best catches ever!
2. One of the best fielders of all times Jonty Rhodes takes a stunner at point.
3. Yuvraj Singh undoubtedly one of the best fielders in world cricket grabbed two stunning catches in the champions trophy s semi-final against South Africa.  India defending a total of 261 badly needed some wickets.The catches he took set the tone for India and they went to to win the crucial game.
4. Ricky Ponting just manages to take this one at backward point, his favorite fielding position. Timed his dive well to dismiss Shoaib Malik.
5. Ashwell Prince trying to pull Glenn McGrath didn't middle it and Michael Hussey takes a spectacular One-handed diving catch.
6. Bermuda's Dwayne Leverock  dives to his right to take a blinder to dismiss Robin Uthappa at first slip. The big boy was certainly delighted with his own effort, running around to celebrate.
7.Virender Sehwag fielding at long-on keeps his eyes on the ball and grabs a fabulous catch keeping the boundary rope in mind.  Micheal Clarke can't believe it!
8.Inzamam ul haq plays a lofted shot off Murali Kartik to long on. Sachin Tendulkar with his safe pair of hands took a running catch at the boundary.  With the bowl sailing over the boundary he judged it perfectly.
9. Rohan Gavaskar playing his debut match takes a spectacular catch off his own bowling taking the important wicket of the mighty Andrew Symonds.
10. Brett Lee holds on to this one hit hard straight back to him by Flintoff.  Difficult for a fast bowler to take such catches with their momentum going forward ,that was  a brilliantly taken.
Source: www.YouTube.com