Classy Jayawardene denies England on the first day at Galle
974 //
26 Mar 2012, 18:18 IST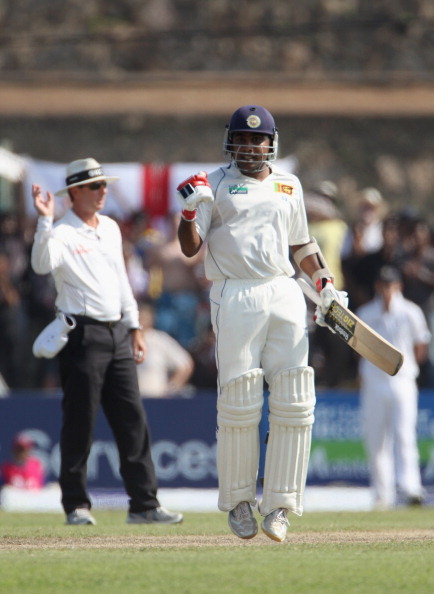 England bowled brilliantly today. Their bowling attack showed exactly why they are the best in the world. Jimmy Anderson and Stuart Broad were excellent early on. Anderson in particular had the ball on a string. His removal of Sangakkara was world-class. Even the spinners, who were not as threatening or effective, played their part. Monty Panesar provided a much needed element of control, however, his good work was undone by a late flurry of dropped catches. Showing that despite all his hard work, he is still far from the finished article in the field.
Unfortunately for England, they ran head first into a brick wall today. That brick wall came in the form of Sri Lanka captain Mahela Jayawardene. However, it is unfair to compare Jayawardene to a brick wall, such was the elegance of his innings today. Yes, he gave a few chances, four, to be precise. But I don't think I've ever seen a batsman look so at ease during an innings. I cannot remember a play and miss. The fact that this effort came against a rampant England attack (which dismantled the rest of Sri Lanka's line-up with consummate ease) makes it all the more impressive.
From the moment he came in, at 11-2, he took control. He was circumspect early on as he focused on blunting England's seamers. Once Broad and Anderson had run out of steam in the sweltering heat, he set about toying with England for the remainder of the day. He appeared to hit sixes at will. After being tied down by Panesar for a few overs, he pranced down the pitch and planted Swann into the stands. He then proceeded to switch back into his cocoon, having released the pressure gaining on him. This was a theme that ran throughout the day. Jayawardene was unflappable, he put the ball where he wanted. It was a masterclass in maneuvering the field. I was particularly impressed with his use of the often vacant third man area. The guide down to third man is, in my opinion, a vastly underused shot. It is relatively safe, especially on a slow, low pitch such as this one. It is also a shot that can bring rich rewards. It certainly allowed Jayawardene to rotate the strike with ease, a hallmark of his innings.
He finished the day on 168. A quite remarkable achievement when considering the next highest score was 27. He took full toll late in the day against a tiring England attack and a very ragged ball.
Stats were shown during the day about the disparity between Jayawardene's home and away batting averages. There is a difference of over 20 runs, which is a massive amount for a player of his caliber. However, he did show reasons for that disparity during his innings. He was immaculate against the spinners, and the seamers once they had tired slightly, however, he did struggle slightly right at the end against the second new ball. It is this weakness against swing and seam which is most likely the only thing preventing his passage into the pantheon of the all-time greats.
Regardless of Jayawardena's innings, England have still had a very good day. Anderson was interviewed after the day's play and said he would've taken 298-8 at the beginning of the day. He is certainly right. England are in a very good position, especially if they can put the batting woes of the UAE behind them and pile up a massive total.
England do have plenty to ponder. What if Monty Panesar took one of those catches? What if Jayawardene nicked off early? But most importantly, what if Jayawardene keeps playing like this? If he does, England might have to say an early farewell to this series.