County Cricket: Derbyshire v Durham - T20 preview
1.19K //
21 Jul 2013, 03:28 IST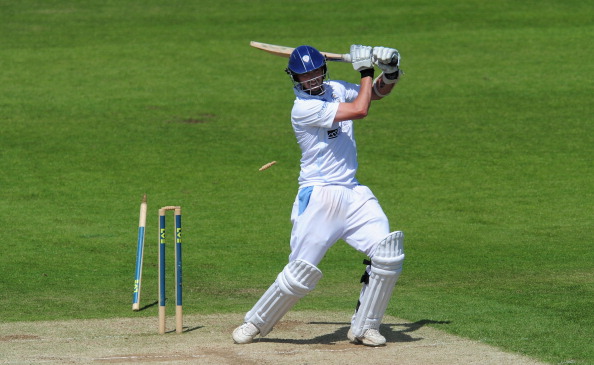 Life is full of surprises. I experienced that this afternoon.
Our delightful sixteen year old daughter was listening to music in the back garden when I joined her in the late afternoon sunshine. It has been another lovely day and she had her earphones in. I asked her what she was listening to.
"Blues" was her reply. "It's a compilation with John Lee Hooker, Memphis Minnie, Sleepy John Estes, Robert Johnson and loads of others…stuff that influenced Led Zeppelin".
Given that her musical taste is eclectic and unashamedly retro, I perhaps shouldn't have been surprised, but the contrast with most girls of her age made me smile.
I think most Derbyshire fans, like her, have the blues right now and it was patently obvious from the chairman's tweets today that he is hurting as much as the rest of us.
"We will get it back on track" he said and there's no reason to disbelieve him. He is a good man and passionate about the club, tireless in his work on its behalf. I suspect that the getting back on track will be on a longer term, but I try to stop my train of thought going down that particular track. Hope you saw what I did there!
A good time to start would be tomorrow's game against Durham at Chesterfield, one that we should be starting from a position of unprecedented strength. We were in a good position at Old Trafford and lost control after Chanderpaul's injury, while against Yorkshire, our excellent bowling should have left the run chase a literal walk in the park. But it didn't.
Until we acquire the skills, or the players, to milk the spinners around in the middle of the innings when the field goes back, our success rate in run chases will usually be less than 50/50. We must not and cannot expect Albie Morkel to score 20-odd off the last over every time and greater common sense through the innings is essential. Last week, I noted that one third of our innings were dot balls and we can't afford such wastage. No side can.
Were tomorrow's game another championship fixture, I suspect that the side would not include Wes Durston and Dan Redfern, after further failures in what have been difficult seasons this week. As it is, both should appear tomorrow, as their roles in T20 are important to the side and, let's be honest, we're not awash with alternatives.
I doubt we will see the return of Shivnarine Chanderpaul, so the team is likely to be pretty much as was defeated on Sunday. Had Durston not been injured we could have won that one, though the run out of Wayne Madsen was crucial to the final outcome. For all that some bemoan our chasing totals, I still feel that it represents our best chance of a win, with the opposition hopefully over-reaching and leaving us something attainable.
A win would do much for morale, but Durham, despite a poor T20 campaign, won at Trent Bridge on Friday and have some powerful strikers of the ball. They will also have Graham Onions to lead the attack and will present stiff opposition, as we know all too well from the Riverside last week.
My forecast? I'd love to be positive and predict a win, but the sunny weather has been diametrically opposed to our standard of cricket this week at Chesterfield. If we can pull off a win tomorrow we are very much in the shake up for the quarter finals.
If we don't, we're deeper into the blues than Robert Johnson and our season has quite possibly gone past the crossroads.