Cricket under siege
1.23K //
11 Jul 2011, 14:42 IST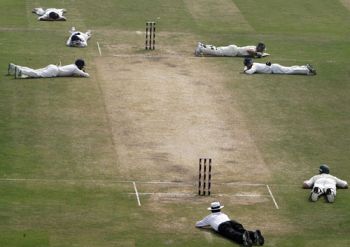 The way things have gone on in and off the cricket field of late, these times seem the worst it has ever seen. One can argue that the Kerry Pecker circus was more severe threat and everything looks okay in the current scenario, especially after the super successful 2011 World Cup and a substantially meaningful ICC board meeting recently in Honkong.
But when one does a close scrutiny of recent developments, one can easily make out that everything is not going well in the cricket fraternity.
Susceptible Sri Lanka
Kumar Sangakara at the MCC Spirit of Cricket Lecture at Lord's made serious allegations of mismanagement and corruption against the Sri Lankan cricket board. He alleged that the dirty politics of the "partisan cronies" led him to step down from captaincy after the 2011 World Cup final at Mumbai.
The board has been run by various interim committees appointed by the government and media reports suggest that their mismanagement and corrupt practices left the co-hosts of the recent World Cup with a $69 million debt.
"After 1996 the cricket board has been controlled and administered by a handful of well-meaning individuals either personally or by proxy rotated in and out depending on appointment or election," said Sangakkara.
West Indian Worries
Once invincible, West Indies cricket team is in tatters today, both in and out of the field. The team is at the bottom of the ICC rankings in all formats of the game. A spat between the WICB and WIPA has taken a toll over senior players like Sarwan and Chandrapaul. Darren Sammy is the captain because he is loyal to the board and the team morale is at a record low. Chris Gayle's international career is under threat and he may be left playing T20 leagues for the rest of his life.
Precarious Pakistan
Controversies have a close relation with Pakistan cricket. A country whose cricket board is marred by political upheavals every now and then has not hosted a cricket series since the infamous terrorist attack on Sri Lankan cricket team in 2009. The spot fixing scandal made things worse as Mohammad Asif, Mohammad Amir and Salman Butt were banned for five years.
The team reached 2011 World Cup Semifinals under Shahid Afridi and it seemed things will get on track soon. But not to anybody's liking things became gloomy again, Afridi was sacked for unconvincing reasons and it started another string of controversies involving board and/or players with first Afridi and then Danish Kaneria taking the matters into courtroom.
To sum it all, Pakistan's one day and test captain Misbah-ul-haq's remarks could be handy, who described playing for Pakistan as "mental torture."
Indian Insecurities
In the last couple of years, Indian cricket has become the powerhouse of world cricket, both financially and in cricketing terms. India is the place where we have the largest viewership for cricket, sponsors are ready to pour in millions of dollars, BCCI is the most influential and wealthiest cricket board and its team is the reigning one day champions and is perched atop the test rankings.
All this seems a fairytale but BCCI has often been accused of arm twisting and misusing its clout to influence ICC's decisions in its favour, a "stubborn" reluctance of UDRS being a latest example.
Australia, New Zealand and South Africa are going through a rebuilding process and England has taken up a "bizarre" –Different Captain for Different Format-strategy whose success is susceptible.
The above sighted instances gives a clear indication that cricket is going through a tough face. Cricket boards around the world are run by political honchos who use these cricket bodies to meet their own selfish ends and where accountability and transparency in administration and credibility of conduct gets lost in a mad power struggle.
To salvage cricket from these sharks we need better administration run by professionals and people who have an understanding of the game otherwise the common cricket lover may shun himself from cricket.