Cricketing career of Deepak Shodhan
1.47K //
22 Dec 2012, 17:44 IST
This man got his driving licence before India got its independence, in 1946. Sixty-six years hence, he is still seen driving his Santro on the roads of Ahmedabad. This 84-year-old has played only three Test matches for India; with an impressive average of 60.33. He was the second Indian batsman to score a century on his debut after Lala Amarnath. Meet Roshan 'Deepak' Shodhan. He was only 24 years old when he last played for India. So what went wrong for this southpaw? What was the reason behind his premature exit from International cricket?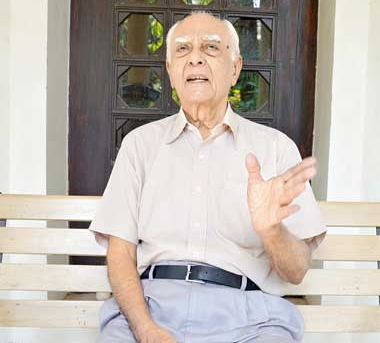 Shodhan's debut:
Deepak Shodhan was selected in the Indian team after he scored an unbeaten 89 against the touring Pakistan team at Ahmedabad (his home ground) in 1952.
Shodhan made his debut in the fifth and final Test match at the Eden Gardens in 1952-53 against Pakistan. Shodhan got his chance since Vijay Hazare had opted out of the match to mentally prepare himself for the West Indies tour that was to follow. Shodhan thus became India's 68th Test cricketer.
Pakistan batted first and scored 257.  India were reeling at 179 for six after skipper Amarnath was out 11. Shodhan did not complain that he batted at eight. Infact he was proud to represent his country. He and Dattu Phadkar stitched an important partnership and overhauled Pakistan's total. Phadkar was dismissed soon after that. Shodhan was an attacking left-handed batsman and he started taking chances. Shodhan batted well with the tail and had partnerships of 54, 38 and 40 for the eighth, ninth and tenth wickets respectively.
Shodhan got to his hundred by hitting a boundary. About 60,000 people at the Eden Gardens gave Shodhan a standing ovation. Indian skipper Amarnath specially came down and congratulated Shodhan during the tea break. Pakistan skipper Abdul Hafeez Kardar too applauded the young Ahmedabad-born batsman. Shodhan had announced his arrival with an important knock of 110.
His last tour:
Shodhan was expected to be the next big thing of Indian batting. He was picked for the West Indies tour in 1953. In the first Test match at Port-of-Spain, he scored 45 and 11. He missed the following three Test matches due to injuries. He was picked for the fifth Test at Jamaica, but was ill on the first day of the match and could not bat in the first innings.
In the second innings, Shodhan batted at number 10, despite having fever. He played out time and scored 15 not out. West Indies had to chase 181 in 145 minutes. They couldn't and the match was drawn thanks to the heroics of Shodhan. But that was to be his final Test match.
Surprise exclusion – end of the road for Shodhan
There are a few interesting explanations for Shodhan's bizzare exclusion. According to one story, Vinoo Mankad asked Shodhan whether he was on his (Mankad's) side or captain Hazare's side. Shodhan proudly replied that he was on India's side. This hurt Mankad. Unfortunately for Shodhan, this series was Hazare's last. He was replaced by Mankad as India's captain. Shodhan made himself unavailable when India visited Pakistan in 1954-55. According to Shodhan, Mankad would have never chosen him.
After a few years Shodhan said that no youngster could feel secure in the team unless he "allied himself to one camp". Shodhan did not believe in such a thing- which ultimately brought about his downfall.
According to many former players, Mankad was the one and only reason behind the early exit of Shodhan.
The final few words:
Shodhan today is the fifth oldest Indian Test cricketer alive. His average of 60.33 is the highest amongst Indian batsmen. He is a treasure trove of interesting stories and is often seen at the Cricket Club of India when he comes to Mumbai.
Shodhan gets a couple of tickets for every game played at Motera, but he is at loggerheads with the Gujarat Cricket Association for not sending him a car pass.
Shodhan loved driving the ball during his playing days; even today he loves driving, but only his car. Some things (passion for 'driving' in this case) never change.