England safe as houses – but on what foundation?
1.39K //
02 Mar 2011, 18:16 IST
In many ways, England's nailbiting tie against Inda was the perfect result following the near catastrophe-of-Charlie-Sheen-proportions that was the match versus the Netherlands.  A loss would have seen critics of England's ODI side, myself included, bash the England team so vehemently that there would have been a danger of the gap between Matt Prior's front two teeth exponentially expanding.  A victory, on the other hand, would have divided fans into two groups: one camp would have been lauding the Dutch Debacle as a blip on the path to inevitable World Cup success, whilst the other camp would have cited a victory as further evidence of England's reliable unreliability in this form of the game.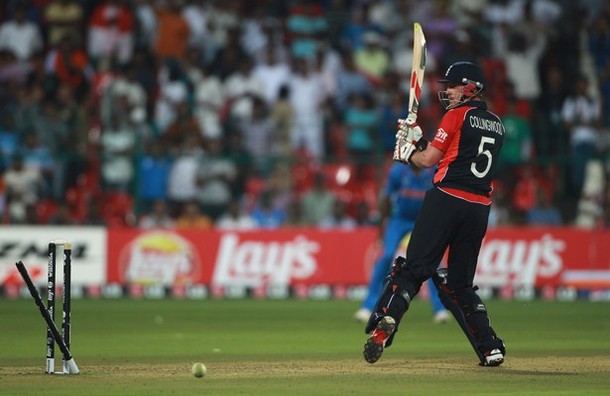 With the game drawing to its climax, and the England team unable to predict what kind of reaction its bipolar media would give them, they managed to engineer the only result that defeated the naysayers, the blind optimists and probably even somewhere had Colonel Gaddafi shrugging into his cornflakes regretting placing his considerable fortune on Graeme Swann hitting the final ball for six.  Instead of continuing to evaluate England's performances like a nation working its way through a bumper pack of Jelly Bellies ("That's awful"/"That's amazing"/"That's made me feel sick"), we simply shrugged our shoulders, unsure of how to react to the result and collectively said, "Okay, let's reserve judgement on this."  Not since the trial of Otto Fisthünker, who brutally murdered shepherds but painted incredible murals with their innards, have we been so unsure whether to praise or disapprove.
With the Ireland match recently underway, the recipe for England's success has become very apparent.  As with their 5-day Test team, they are aiming for continuity in their side in order to foster a real team spirit.  But with more-than-capable replacements waiting on the sidelines, could England's patience in the face of poor form do them more harm than good?  Paul Collingwood, who is looking increasingly like the player would would win the 'Biggest Tryer' award at the end-of-season dinner, has scored 31 runs in his two innings and bowled like Harbhajan Singh only with more flight and no spin, and continues to keep Ravi Bopara out of the team.  Bopara has been much-maligned in recent years, but this is mainly due to England expecting far too much of him early on in his international career.  Bopara's bowling is no worse than Collingwood's, he is far more likely to clear the ropes in the final overs, and his IPL experience could be invaluable during this World Cup.
With James Anderson & Stuart Broad conceding 228 runs between them in 30 overs, prior to the Ireland match, you have to wonder just what these two England favourites have to do to be dropped.  Their names are not just first on the teamsheet, but the teamsheets are actually pre-printed with their names on them.  Their case for thoughtless inclusion is strengthened further by the fact that England's reserve bowlers are James Tredwell, a spinner who the selectors don't really want to pick, the raw but erratic Ajmal Shahzad, and Luke Wright, who is more bustling than Sainsburys on a Saturday.  Broad and Anderson's fascination with pitching the ball closer to the non-striker than the striker makes the omission from the squad of Chris Tremlett, The Sane Man's Harmison and general fan-of-the-middle-of-the-pitch, even more unbelievable. Anderson's best length is full, allowing for any swing there might be.  Broad, who seems to believe that his pace and slower ball both resemble Courtney Walsh's, needs to spend an evening watching replays of Glenn McGrath in his pomp.
The two men to step forward and grasp this World Cup by the box have been Andrew Strauss and Tim Bresnan.  Strauss' transformation in the one-day format has been more alarming than that time when Afridi knocked a steady 30 from 50 balls.  Bresnan (tournament figures so far: 20-1-97-6) has gone from being the dressing room joker who was only taken on tour to improve morale to being a terrifying throwback to Darren Gough in the late 1990s.  However, if England ever come across a pitch that absolutely necessitates the inclusion of a second spinner, it will surely be Bresnan who makes way.
England must ensure that they carefully tread the line between selection consistency and blind faith in their current crop.  Going into this tournament, everyone knew that England had to improve as a one day team.  If we don't succeed in this World Cup with exactly the same team that began it, we will have not developed a jot as a team.  We may not win the World Cup, but we must continue to improve and not run the risk of hampering the development of the decent players that we have coming through.
Don't forget to listen to the At The End of the Day podcast, available on iTunes & from this website every Friday