England vs India 1st Test: 5 lessons India should take home
813 //
26 Jul 2011, 01:55 IST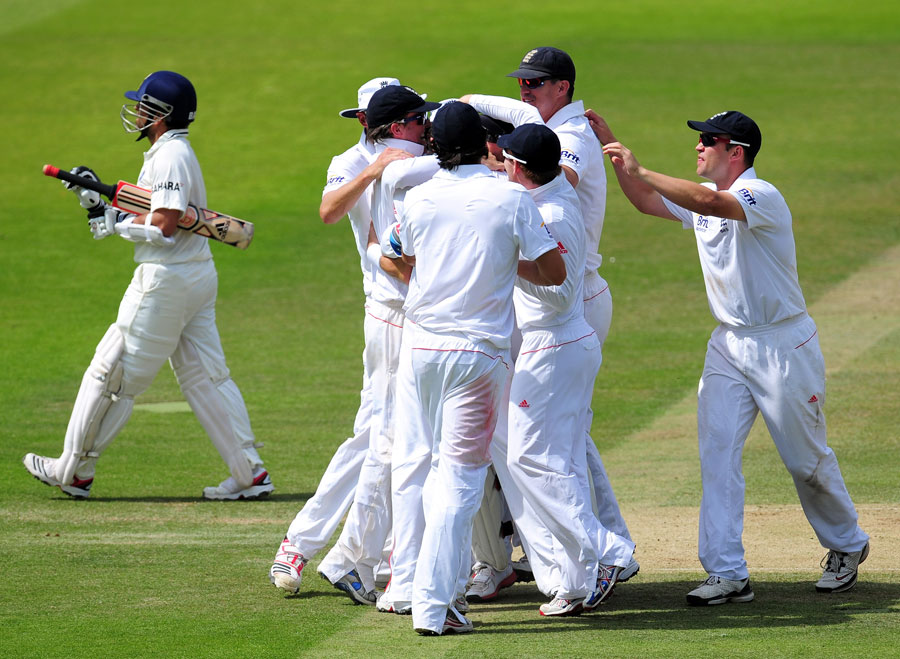 It was yet another first match of yet another overseas tour for Team India. They somehow manage to lose it every time and have been doing it successfully for quite sometime now. The recently concluded match between India and England supported the aforementioned fact to the T. The better team prevailed in the contest. The hype to this match was too much that people actually did not realise how bad the two teams matched against each other. The No.1 ranked test team in the world came up a cropper against a really well-knit unit from the British Isles. This article is intended at picking a few things where India went wrong and why they could have never won this test,which eventually they did not.
1. Team Selection
When you realise that a tour is very important for the rankings and the good of your team, you do not go under-prepared. Even if you are one of the best players currently, you got to have a good fitness level and be at your best. The sheer selection of Zaheer Khan into the playing XI itself was a blunder. One does not bring in a player so that he would help you for the first 2 hours of a 5 day long game. If you are not fit, just do not play. That 2 hours of pleasure hurts the remaining 4 days and 2 sessions is something India never considered when they picked the spearhead. The team struggled badly with a 3-pronged attack. They did not even have a part-time medium pacer who could fill in the shoes, and shamefully required the wicketkeeper to come and bowl. Let us henceforth have 11 completely match-fit players be part of the team and the remaining stay in the sidelines.
Dear Harbhajan, your place in the team is granted. At least, feel a little guilty for occupying a spot for so long that should actually be taken by more deserving candidates. We do not want you to contain runs,which you do not do anyway. We need more wickets  from you when you come to bowl. One great ball for a test match and brooding over the fact that that was not capitalised on is the lamest excuse one can give. You have a match figures of 56-4-218-1. This is not expected from a so-called champion bowler who just walks his way into the best test team in the world. There are better players in the squad and everyone including you know about it.  If you do not, please take my advice.  Bowl at 80 to 90 kmph and maintain an off and mid-stump line. Let doosra and not an off-spinner be your stock delivery.
3. Confidence
Team India, please do realise that you are at the top of the test rankings table and need to have at least a little bit of confidence in yourselves when playing against any team. Even when a team like Bangladesh tours England, Australia or for that matter even India, they are high on confidence, even if they lack the actual talent. The fear in the Indian batsmen to face the English bowlers was more than half the job done for Strauss' men. The body language of the team was very poor in the both the innings, but for a couple of bold knocks. Yes, you are a bowler down after the first 2 hours of a test match. But you cannot let that hinder you for the entire innings. With Ishant bowling 80% of his deliveries to the 6-7th off-stump and Harbhajan constantly bowling to the leg slip, it was a cake walk for the English batsmen and they massacred the toothless Indian attack.
4. Centuries
There were 3 centuries(including one double) scored in the 100th test match played between these two nations. All were scored at different circumstances and were very differently constructed. The Kevin Pietersen knock was a fantastic one until he reached his 100. After that, it was just the dismal bowling of the Indians that let him dominate and race to his double century as he scored his last 50 runs in just 25 deliveries. The Rahul Dravid century was a beautifully carved one. It came at such an important situation for India and it showed a lot of character. The pain involved in this century was shown by Dravid himself once he completed it. You would not have seen him celebrate in the way he did, in a long long time. Matt Prior was forced to score a century by the Indian bowlers MS Dhoni and SK Raina. It appeared Dhoni made a conscious effort to ensure Prior scored his 3rd test century at Lord's. It overshadowed the painstaking efforts taken by Dravid in moulding his fantastic ton and giving India a fighting chance in the test.
5. Positives
Abhinav Mukund played a fantastic, gritty knock in the first innings of  the test match. He was done by over-enthusiasm to reach his maiden half-century. The occasion got to him. Raina played a blinder in the 2nd innings. His 78 was a brilliant knock and showed a lot of character. Praveen Kumar ensured his name went up the Lord's Honours Board with a glorious display of traditional swing bowling ending up getting a 5 wicket haul. Ishant Sharma's spell of 4-3-1-3 in the 2nd innings of the match rocked the English team for some time. It was an exhibition of fantastic of pace bowling.
In all, there were more negatives than positives in the match that concluded. Dhoni's captaincy was under the scanner a couple of times. His batting prowess was never questioned and was it was proven beyond doubt that he has to improve considerably as a test batsman. If Ranjan Madugalle was faithful to his profession, India will be led by Gautham Gambhir in the 2nd test at Trent Bridge. There will no Zaheer Khan officially(at least that is what I wish for) and would expect a fully fit 11 to play in the middle. The team's status as the No.1 Test side hangs in the balance and the momentum is in favour of the side coached by the younger Zimbabwean of the two involved in the battle.  Let us hope Team India puts up a much improved performance at Trent Bridge.