England vs India 2011 Preview : Clash of the titans
806 //
20 Jul 2011, 21:10 IST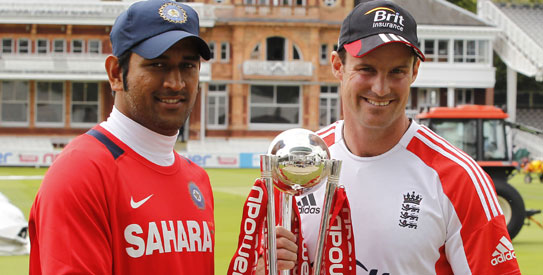 It is that time of the year when the winter begins in the East and the summer begins in the West. And this summer in England is getting hotter with the much anticipated test series between England and India starting from tomorrow. A few cricket pundits claim it to be as important as the Ashes. The clash of the two most improved teams in recent years is about to get underway at the Mecca of Cricket, Lord's in London. India, currently the No.1 team in test rankings, will be tested against a formidable side in the form of England. England is currently 3rd on the list, but are a much better side at their home conditions. Here we see what we have in store for the entire season and more specifically from the next 5 days.
INDIA
It is an honour for any cricketer to play at the Lord's cricket ground and more importantly a 5-day match at this venue. The Indian team that is visiting the English soil this season is a mixture of experience and raw talent. Sachin Tendulkar, hailed as the best living cricketer by many more living cricketers, is on the verge of conquering yet another milestone, which has been the only thing he has been doing in the past 3-4 years. He has played four test matches at this venue with a paltry average of 21. But that should not deter his fans from expecting anything less than his 100th ton in this match, let alone this season. And the batting lineup boasts of VVS Laxman and Rahul Dravid along with Sachin who have garnered more than 30,000 runs in this format among them. Rahul Dravid is raring to go at the ground where he missed his maiden test century on his debut by a meagre 5 runs. One more great, Sourav Ganguly, who debuted in the same match and ended up scoring a magnificent century might be there as part of the commentary box and not in mix of things. Well of course, there are Dhoni, Gambhir, Harbhajan and Zaheer Khan who have already established themselves at this level.
Coming to the newer breed of cricketers, India is going in with at least 3 players in the playing XI who have not played more than 20 test matches collectively. Abhinav Mukund has now been elevated to International level, thanks to Krishnamachari Srikkanth. Srikkanth has done his part and more in bringing in maximum number of players from  Tamil Nadu to play for India at the highest level. Nevertheless, Mukund is a good talent who showed fantastic grit and composure during the Caribbean tour and had a decent outing in the only tour match against Somerset. He is definitely going to have a tough time against the likes of Anderson, Tremlett and Broad. Suresh Raina being the best batsman on tour so far has come a long way in his test career. He is most likely to be playing ahead of Yuvraj Singh who had a very poor outing against Somerset. Though form is temporary and class is permanent, India cannot risk playing Yuvraj ahead of Raina. This lad does his bit with the ball as well whenever his skipper expects from him. The 3rd player with minimal experience who is going to be part of the middle is Praveen Kumar. He is going to definitely enjoy these conditions a lot. He depends a lot on swing and grounds in England are known to have a constant breeze flowing throughout the day. Praveen along with Ishant and Zaheer should form a formidable pace attack. Harbhajan Singh should prove he is the champion bowler that he is,by making it large in this tour.
ENGLAND
Now coming to the home team. This team is the best of all England has had in the last 15 years(since I started watching cricket). They have a wonderful coach/mentor in Andy Flower. England also have a left-left opening pair similar to India. But this is a tried and tested pair for a long time now for them. Andrew Strauss has regained his touch and he showed it vehemently in the tour match. His century in the second innings of that match must have raised one too many butterflies in the Indian camp. The form Alistair Cook is and has been over the last 3-4 years makes me feel if this guy had played for India, we would have never had to have as many openers we have had. Jonathan Trott has already been dubbed as the Wall of England and rightly so. Kevin Pietersen, even with all the talking, is by far the most threatening batsmen in their mix. On his day,he can treat his opposition with sheer disdain.  Ian Bell is averaging 300 in his last few test innings and would complete the strong middle order. Matt Prior can come in handy in critical situations with the bat for his team.
The bowling department is the best part of this England squad.  James Anderson, Stuart Broad and Chris Tremlett are way too good in their conditions to call this combination just a formidable one. The fantastic swing which Anderson gets is a treat to watch in itself. Broad and Tremlett and going to tease the Indian batsmen with their bouncers. Graeme Swann,the world's best off spinner currently, has this uncanny knack of picking up wickets very early in his spells. Indian batsmen should go after him from the beginning and never allow him to settle, just like they did in the World Cup encounter.
The first test is going to be a great challenge for the Indians as they come from a tour against a very normal side and are not entering this tour trashing the previous opponents. Even India did miss a lot of front line players in that tour,but that cannot discount the poor show of a few players. Should England win the first test at Lord's, they will be closer to that No.1 which they would get by beating India in this series with a margin of 2 or more matches. There is a lot at stake at the home ground of cricket. Enjoy test cricket at its best!