England vs India 2nd Test Day 2: Dravid, Laxman pave the way for a first innings lead
762 //
30 Jul 2011, 19:10 IST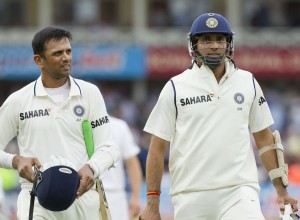 The Indian batting duo of Rahul Dravid and VVS Laxman displayed a zen like calmness in the first session on Day 2 of the second test in Nottingham, to further consolidate India's position. With rising doubts before the start of today's play related to bowler friendly conditions, India's must trusted pair safely negotiated the delicate situation with their resilient batting.
Dravid and Laxman hardly gave the English bowlers any chance in the first hour and half, barring one close call with Laxman at the crease when the ball appeared to pick up an inside edge before safely being poached by Prior. The slip cordon and Prior all appealed in unison and much to their chagrin, Asad Rauf ruled not-out.  After a failed review on Day 1, England opted to chance their luck and decided to call for their second and only remaining review, which proved costly as the hotspot clearly indicated the lack of any edge whatsoever from Laxman's bat. Credit must be given to umpire Asad Rauf who has been flawless, not giving a single wrong decision in this series. Laced with exquisite cover drives and pulls, 80% of the session was a visual treat for fans and cricket pundits alike.
All good things come to an end and so was the case with Dravid-Laxman partnership. England finally managed to get the better of Laxman by luring him into playing a false shot courtesy of a full, swinging delivery by Bresnan which safely landed into the waiting gloves of Prior, on 54. Laxman must be disappointed to say the least, not being able to convert his superb start into a ton for the second time in this series.  But with Dravid still holding fort strong, India look to overhaul England's score and build a lead.
India 157/4 Rahul Dravid 57* holding fort with Yuvraj Singh 12*