Exclusive interview with Australian bowler Mitchell Starc
1.75K //
07 Mar 2012, 15:35 IST
Having made his Test debut at the beginning of the Australian summer, in early December against New Zealand, Mitchell Starc is one of those youngsters who have made their mark very early in international cricket. Although Starc's debut was overshadowed by a man-of-the-match performance from James Pattinson, he has made several valuable contributions subsequently. As part of the Sydney Sixers Big Bash League team, Starc was instrumental in their maiden Big Bash League victory.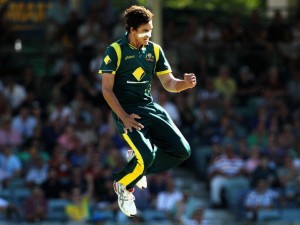 Undoubtedly a vital element of the future of Australian cricket, Starc tells us how the journey has been so far, in an exclusive interview with Sportskeeda.com.
Excerpts:
Since when did you want to play cricket for Australia, and how did that dream form shape? How has the journey been so far?
I have wanted to play for Australia ever since I was a kid. Not just me –  it is every kid's dream to play for Australia. The last 12 months have all been a little surreal, but have also been a wonderful experience. Hopefully there is plenty more to come.
Who was your childhood hero and why?
When I had just started out to play cricket, I was a wicket-keeper/batsman. Being inclined to this facet of the game back then, I loved watching Adam Gilchrist play. He definitely was someone I looked up to and revered.
What made you switch from wicket-keeping to fast bowling? How did the transformation happen?
I was training with an Under-15's representative squad, bowling some medium pacers in the nets, when one of the coaches present there told me that I should forget wicket keeping and go in for fast bowling due to my height. And that's it – that's how the switch happened. It was good advice!
When you were presented your Baggy Green by Richie Benaud, what did he say to you and what was going through your mind at that time?
It was a great moment when Richie presented my baggy green.  He didn't say much, except that he had been watching me for the past few years. The feeling was overwhelming; I was very proud to be an Australian!
Who is one contemporary bowler you look up to and whose footsteps you would like to follow?
Among all the contemporary bowlers, I think Glenn McGrath has set the standard. His line and length are what almost every bowler aspires to emulate.
How special was it to dismiss Sachin Tendulkar at the WACA?
Having watched Sachin play throughout the years, it was a little intimidating bowling to him. But it was a magical moment when I dismissed the little master at the WACA; I was ecstatic. It is a scalp I will treasure forever.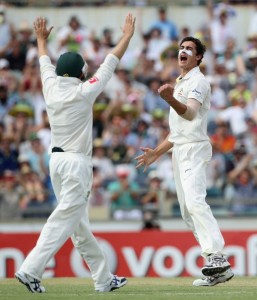 How was it playing in the Big Bash League and being a part of the victorious Sydney Sixers team?
I loved playing with the Sydney Sixers and being a part of the Big Bash League. There was such a wonderful culture embedded within the squad. It was amazing. The victory in the final in Perth (at the WACA) was extremely special; the fact that we were playing away from home, in front of a very parochial Perth crowd, added to the jubilation.
What role has Craig McDermott played in your development as a bowler? 
Craig has been fantastic to work with. He has so much experience, but he doesn't try to change too much; instead, he prioritizes about getting the basics right.
What are your strengths as a bowler and what would you like to work on?
Being a left-armer, my height allows me to get more bounce, which I see as a strength. I am working on my consistency, but that will come from bowling more overs and playing more games.
What do you think of the current young bowling pace group in Australia? Do you see any combination being as effective as Brett Lee, Glenn McGrath and Jason Gillespie in all formats of the game?
Well, I hope so. Australia is blessed with a lot of young fast bowling talents at the moment, so the future looks bright. It would be nice to be as effective and successful as the McGrath-Lee-Gillespie combination was.
What do you think of the rotation policy? Is it necessary to minimize the chances of injuries that might occur due to excessive workloads?
That is the decision the selectors have already made, so we all just have to abide by it and make sure that we make the most of the opportunities as and when they come our way.
What form of the game do you enjoy playing the most and why?
Without doubt it has to be Test cricket – it is the ultimate 'test'.
Where do you see yourself in a few years' time?
I would like to become a consistent member of the Australian cricket team and do my best while I have the opportunity to play for my country.