Ganguly to feature for MCC in Dubai Twenty20
1.23K //
14 Mar 2011, 23:49 IST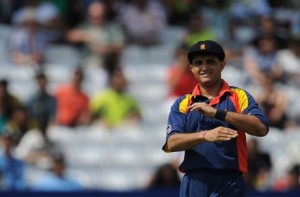 Sourav Ganguly's ardent fans say, "You can take Dada out of cricket but not cricket out of Dada." They have a point. One of the shrewdest minds of the world cricket, Sourav Ganguly is revered for his contribution to Cricket. Indian Premier League franchises might have showed him the back during the IPL Auctions but the MCC (Marylebone Cricket Club) has included India's most successful captain Ganguly in its T20 team which will play the Emirates Airline Twenty20 tournament in Dubai next month.
Emirates Airline Twenty20 tournament is an annual tournament played at the Sevens

Cricket Ground, Dubai and became very successful last edition. This year the county teams Sussex, Durham and Nottinghamshire have confirmed to participate in the tournament. Along with these county teams, a special team of MCC will participate in the tournament. The tournament has been sanctioned by the famous founding club of cricket and will be promoted as an MCC Spirit of Cricket event. Sourav Ganguly has been named as a player in this team.
Sourav won't be new to the MCC side as last year in June, Sourav was part of the MCC side and captained it in a match against the Pakistan at Lords. MCC or Marylebone Cricket Club was founded in 1787 and this cricket club has been influential in various changes in the world cricket as well as in formulating the laws of cricket. The club is dedicated to Cricket's development and promotes the spirit of cricket in many of the events like the IPL. MCC picking Sourav in its team is no less than honour considering the rich history and stature of the club.
Dada's numerous fans will be jubilant to see their favorite cricketer back in action.