Hashim Amla: The Great Wall of South Africa
889 //
16 Nov 2012, 12:44 IST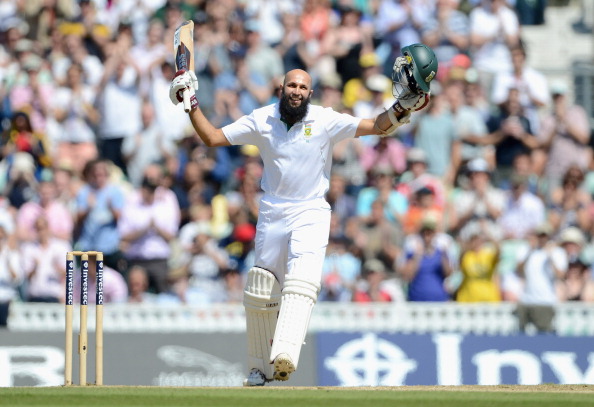 Hashim Amla 104*. Peter Siddle bowled one of his typically full pitched in-swingers which hit Amla's pads. A loud appeal ensued and Asad Rauf raised his finger. With the kind of form he is in, it would have been excusable for Amla to take the review even if it were to be clearly out. Instead, he chose to walk to Kallis and ask him if it was worth a referral. Kallis dismissed the idea, and Amla walked towards the pavilion. Mr.Nice Guy Amla showing his peers how cricket, the Gentleman's game, is to be played.
Amla made his debut against India in the 2004-05, where he didn't inspire much confidence with his scores of 24 and 2. His next 2 matches were against England, and with a highest score of 25 he was dropped from the squad. With that shuffle of his, he was clearly susceptible to quality swing bowling. After a year of slugging it out in the nets and the first class scene, he made a grand comeback against New Zealand early in 2006, scoring a majestic 149. However, it wasn't until November 2007 that Hashim Amla truly announced himself into the world cricket scene. With back to back tons against New Zealand, Amla had arrived. And there was no looking back.
Before Nov 2007
Matches             Innings               Runs             Average           100s          50s
16                        31                       973                31.38              2                 5
After Nov 2007
Matches             Innings               Runs             Average           100s          50s
47                        78                        4077            57.42               15              18
The numbers get even better from the Indian tour of 2010, with an average of around 71. A testimony to the fact that he is just getting better with every passing year. Even more remarkable are his ODI stats. He recently shattered Sir Viv Richards's record of being the quickest to 3000 runs. He achieved it in a remarkably quick 60 matches. A cricketer with his technique was considered to be not suited to the ODI format, but he has clearly proved all doubters wrong.
Numbers and stats testify that he is a phenomenal cricketer. But his style of play and conduct on and off the field is what truly distinguishes from his peers. His wristy shots on the leg-side will make any Hyderabadi batsman proud. The cover drives ooze elegance and the front foot defense is picture perfect. There seldom is an ugly hoick or an ungainly swipe. Watching him bat is like watching poetry in motion.
Every time he steps into the cricket field, his conduct and the commitment he exhibits shows his love and respect for the game. He exudes a surreal calm when he is batting. It is no surprise that most of his batting exploits have been in company of Jacques Kallis, who has a demeanor which could be compared to that of a monk's. Though not the best of fielders, he does his job most earnestly, whether at short leg or patrolling the boundaries.
Amla has had a fantastic run in 2012, 2nd only to Michael Clarke in the Tests run scoring charts. He is not yet 30, and is in the midst of a purple patch. He will carry the torch of South African batting for a few more years to come, and should join the elite 10k club in tests along the way, fitness and injuries permitting. When all is said and done, Hashim Amla will be known as one of the best batsmen to have graced the cricket field.
Cricket is said to be the Gentleman's game, and no one symbolised it more than the Indian batting legend Rahul Dravid. Post his retirement in early march this year, there was a huge void left in world cricket. A certain calm, bearded gentleman is the frontrunner to step into those shoes. The comparison might be a bit too early, but for more reasons than one, Hashim Amla deserves the sobriquet of the South African Wall.