Chin up, Proteas: You promised you wouldn't choke and you didn't
2.25K //
25 Mar 2015, 16:31 IST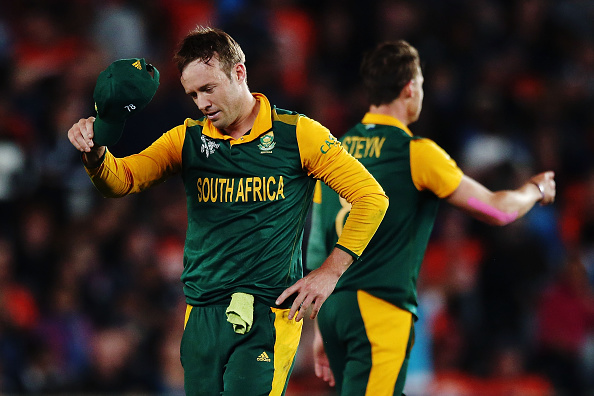 "I have absolutely no idea of what to do from here on in. I don't even know when we're going home. It's going to take some time to get over this. As a captain, I'll be there for the guys as much as I can, but there is nothing you can do about it now," said the South African captain AB de Villiers as he parted from the press conference post what probably was the match of the World Cup by far. Coming into the tournament, South Africa had promised that they would shed their chokers tag – and shed they did. Sadly, though, it was their biggest strength – their fielding – that actually cost them the semi-final against New Zealand.
South Africa and the rain gods are not the best of friends, ever since they made their first World Cup entry in the 1992 edition post the end of apartheid. From needing 22 off 13 balls against England at the SCG to suddenly needing an impossible 22 off 1 ball (as per the rules for rain affected matches in those days) to the 12 minute rain delay in the 2003 edition at Durban against Sri Lanka that led to a D/L mess-up, Lord Zeus hasn't been very kind to them.
However, yesterday they were up against not only the rain but also their fielding demons in the form of a few dropped catches and missed run-outs. Remember Herschelle Gibbs, who dropped a sitter and let off Steve Waugh in the 1999 edition? History repeated itself at Eden Park as they did the same to the man born in their own land, Grant Elliott; the Kiwi middle-order batsman was dropped thrice, and he made complete use of the chances to play the innings of his life and take his adopted nation to their first ever World Cup final,
As Elliott hit a length ball from Dale Steyn into the stands he let out a huge roar with both his arms in the air; it was followed by a big hug from his partner at the other end, Daniel Vettori, and the rest of his teammates. The crowd was on its feet and tears of joy ran down the eyes of the Kiwi fans. It was as if they had literally won the Cup.
While the 40,000 people chanted away in glory, celebrating the victory their boys had handed them, there were pangs being felt in the hearts of 15 men dressed in green and just a few metres away from the joyous crowd. Most of these men couldn't move from their field positions, unable to believe that their world had crashed right in front of their eyes, that they would not return to their people as champions but as a bunch who could only expect that "their countrymen would be proud of them".
Tears rolled down the eyes of Steyn as he sat there in dismay while Morne Morkel and Faf du Plessis cried like babies in Parnell's and Amla's arms respectively. And then there was another man, nicknamed 'Superman', down on his haunches. It is impossible to comprehend what he would have been thinking at that time, but he would have surely felt let down. It is a shame to see De Villiers in tears for all he has ever done and is capable of.
What was indeed touching was Elliott offering a consoling hand to Steyn; if only there was a way to mend their aching hearts and show them where the road to recovery lies.
What a contrast in emotions it was, but this is what a sport when played with intense passion can do to you. The line between victory and defeat yesterday was as thin as it could ever get for the Proteas in a knockout match, but they failed to cross it, undone by none other than their best friend – their fielding.
We would feel bad for them now, but we can move on easily after a while as their coach put it, "The sun will come up again tomorrow and life moves on". But what these men go through each time they play a major tournament is sheer agony. Imagine the demons of your past hanging around you as you set out to accomplish one of the most important tasks of your life, imagine someone constantly reminding you that you just don't have it in you to make it count at the most demanding of occasions, imagine drum beats in a packed stadium reminding you "Choke! Choke! Choke!".
You are a human after all, and more often than not, you give in to the nerves. I can only wonder what it does to their confidence level, and I am sure that it takes more than mere courage to come back to their feets again.
I am not sure how many of us are familiar with the Mats Wilander-Ramesh Krishnan story wherein the reigning number one lost to the 51st ranked Indian in straight sets, leading to the biggest upset of the 1989 Australian Open; post that match, Wilander hardly ever managed to stay in top 10. That is exactly how draining a loss in a crucial game can be, and these men have had it as their company for ages now.
Yet such is their passion for the game and love for their nation that instead of feeling bad for themselves, De Villiers said after the match, "We play this game to win games of cricket, to take glory home and make a difference to the nation, and we didn't do that. We didn't achieve that."
He isn't proud of the fact that they made it to top 4 but is upset that they could not go the full distance and do it for their people. He isn't even sure whether the fans will be proud of the team. That is exactly what psychological frailty does to you after a string of defeats at crucial times. If only we could stop calling them 'chokers', it would probably spare them some pain.
They will not go back home as champions and have no silverware to flaunt; but they certainly have won many a heart, and yes AB, we are all proud of you and your men and I can most certainly say that you have defeated that demon called "choke" just like you had promised.
This article has been contributed by a member of the SK Featured Bloggers Club. It was originally published on the 'Cricket 361' blog here.