I leave with sadness but also with pride: Rahul Dravid - Farewell speech
2.18K //
09 Mar 2012, 16:01 IST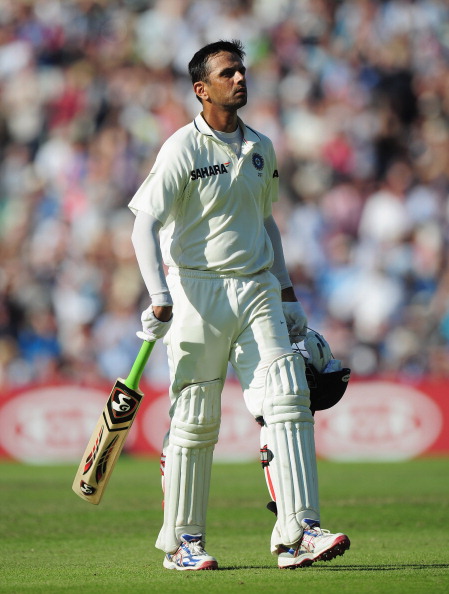 In an emotional speech which he presented at the KSCA hall to annouce his retirement, Rahul Dravid touched upon every aspect of the game that he holds so dear. He thanked his junior coaches, team-mates, selectors and obviously his family.
Here is the copy of the speech that will be etched on the minds of cricket lovers:
"I would like to announce my retirement from international and domestic first-class cricket. It has been 16 years since I first played a Test match for India, and I feel it's time for me to move on. Once I was like every other boy in India, with a dream of playing for my country. Yet I could never have imagined a journey so long and so fulfilling. I have had a wonderful time, but now it is time for a new generation of young players to make their own history and take the Indian cricket team even further.
No dream is ever chased alone. As I look back, as one does at such a time, I have many people to thank for supporting me, teaching me and believing in me.
My junior coaches in Bangalore and at various junior national camps inculcated in me a powerful love of the game which has always stayed with me.
My coaches at the international level have added to my craft and helped shape my personality. They pushed me and challenged me to keep getting better. The physios and trainers worked hard to keep me fit – not an easy job – and allowed me to play late into my 30s.
The selectors who rarely receive any credit in India had, on occasions, more confidence in me than I had in myself and I am grateful for that. The various captains I played under offered me guidance and inspired me.
The media has been kind to me, and I have respect for their craft.
The KSCA and BCCI have provided me a platform and the facilities to play the game.
But most of all, I have to thank the teams I played with. I know what I am going to miss the most is being part of a unit. The joy of bonding together and striving to achieve a goal is what made cricket special for me. I was lucky in my early years to play for a Karnataka team which was trying to forge itself into a strong side and they were years of fun and learning.
In the Indian team, I was fortunate to be part of a wonderful era when India played some of its finest cricket at home and abroad. Many of my teammates have become legends, not just in India but in the wider cricketing world. I admired them, learnt from them and I leave the game with wonderful memories and strong friendships. It is a great gift to have.
A career in sport is almost impossible to manage without the support, guidance, and reassurance of family and friends. During tough times — and there have been many — they are the ones we go to. I found strength and encouragement from my parents (Sharad and Pushpa ) and brother (Vijay) and they created around me a positive environment which was essential to my success.
My wife, Vijeeta, has been a remarkable partner in my journey. She has made sacrifices in her own career and has almost been a single parent bringing up our children alone as I traveled abroad to play. Whenever challenges appeared, she was always there, as sounding board, as ally and as guide. Being away from my family became harder and harder through the years and I look forward now to spending time at home and doing the simple things, like just taking my sons (Samit and Anvay) to school.
Finally, I would like to thank the Indian cricket fan, both here and across the world. The game is lucky to have you and I have been lucky to play before you. To represent India, and thus to represent you, has been a privilege and one which I have always taken seriously. My approach to cricket has been reasonably simple: it was about giving everything to the team, it was about playing with dignity, and it was about upholding the spirit of the game. I hope I have done some of that. I have failed at times, but I have never stopped trying. It is why I leave with sadness but also with pride."