India on winning streak in T20 for blind
930 //
04 Dec 2012, 00:27 IST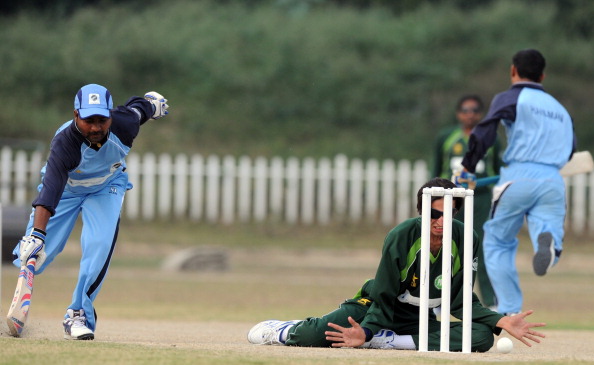 Bangalore - India maintained its winning streak Monday in the T20 World Cup for the blind, thrashing England by 174 runs on the second day of the tournament here.
After scoring a mammoth 325 runs for three wickets in the stipulated 20 overs, India restricted England to a paltry 151 runs for seven wickets, with excellent bowling and agile fielding.
Winning the toss and electing to bat, Indian batters continued their top form, which was on full flow against Australia Sunday in the opening tie.
India beat Australia by 215 runs in the opener.
Indian vice captain Ajay Kumar Reddy, who has partial vision, smashed 131 runs in 48 balls, with 27 boundaries and set a world record for fastest century, which came off just 34 balls.
Captain Shekar Naik, who also has partial vision, remained unbeaten with 134 in 58 balls, with 23 boundaries.
The duo registered a double century partnership, making merry of English bowlers.
With a scintillating display of bat, Reddy, who was Man of the Match, took time to 'sight' the swinging ball and read the pace of the pitch before opening up to hit all over the ground, including helicopter shots, reminding fans of Indian national captain M.S. Dhoni.
Skipper Naik excelled in paddle sweeps.
In the other three league matches, Pakistan beat South Africa by a massive 242 runs, Australia defeat West Indies by a modest 65 runs and Sri Lanka outclassed Nepal by 177 runs.
Pakistan put up a whopping 358 runs for two wickets, riding on a magnificent 156 in 52 balls by Mohammad Zohaib Ghafoor (partial vision), with Mohammad Jaffer chipping in a breezy 82 runs off just 28 balls and Mohammad Akram 69 in 27 balls.
South Africa collapsed to 116 for seven wickets.
Zohaib was declared Man of the Match.
Aussie made 239 runs for six wickets, with a captain's knock of 60 in 37 balls by Mathew Horsey (partial vision). In reply, West Indies were all out for 174 in 20 overs.
In the last tie, Sri Lanka outclassed minnows Nepal by putting up 314 runs for six wickets and restricted Nepal to 137 runs for six wickets.
Nine countries, including Australia, Bangladesh, England, India, Nepal, Pakistan, South Africa, Sri Lanka and West Indies are playing in the 12-day tournament that will have two semi-finals Dec 12 and a final Dec 13 after 39 matches over the next 10 days.
Though the rules of the game are the same as in the regular matches professional cricketers play, the pitch length is 50 yards instead of 70 and the 150-grammes white ball is made of plastic mould with bearings inside for making rattling noise when flung towards batsmen.
The players are classified into three categories – totally blind as B1, partially blind as B2 and with partial vision B3. Each team of 11 members comprises four blind (B1), three partially blind (B2) and four with partial vision (B3). The wicketkeeper is a B3 player.
Interestingly, for every run scored by the blind, one more is added. As a result, a hit to the boundary will be counted as eight and a sixer 12.