India, Pakistan enter T20 for blind semis
1.14K //
10 Dec 2012, 23:45 IST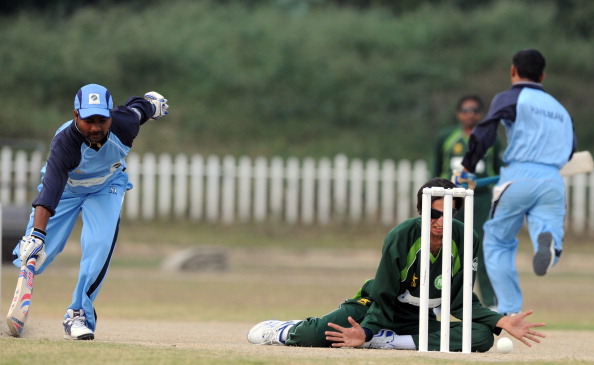 Bangalore - Arch rivals India and Pakistan Monday entered the semi-finals of the T20 World Cup for the blind after their convincing wins against South Africa and minnows Nepal respectively in the last league matches here.
India will clash with Sri Lanka while Pakistan will take on England in the twin semifinals Wednesday and the winners will enter the tournament's final Thursday to lift the cup.
A brilliant all-round performance by Indians sent South Africa crashing to a massive 288-run defeat in the group's last tie at the Aditya Global sports ground on the city's outskirts.
Opting to bat after winning the toss, India posted a mammoth 355 runs for four wickets in 20 overs, with its top order batsmen Ganesh Bushara (partially blind) belting an unbeaten 80 in 31 balls, followed by Dunna Venkatesh (partially blind) 79 off 31 balls and Hitesh Bhai Patel (also partially blind) 72 in 26 balls. Patel was adjudged man of the match.
Bushara and Venkatesh registered a splendid 172-run partnership in 60 deliveries.
Chasing an imposing target of 356, all the Proteas batsmen failed to reach double digits and were bundled out for 67 runs in 11.1 overs, thanks to wily bowling by Indian captain Shekar Naik (partial vision) who took three wickets for 13 runs and vice-captain Ajay Kumar Reddy (partially blind) two for 14.
With seven wins and one loss (to Pakistan), India will play Sri Lanka in the second play-off at Central College grounds in the city centre Wednesday for a berth in final. Lanka has won six games and lost two.
In other last league game on the same ground, Pakistan hammered Nepal in style to win by 10 wickets after bowling them out for 89 in 20 overs and reaching the low target of 90 runs in just 4.1 overs without loss.
Pakistan's Masood Jan (partially blind), who hit a hurricane 53 not out in 16 balls, was man of the match.
In two other league ties played at the Central College grounds in the city centre, England beat West Indies by seven wickets to enter the last four.
Put to bat first, Windies laboured hard to hit 213 runs for six wickets, with a 132-run partnership in 58 balls between Rodney Ramrattan (partial vision) who scored 77 off 36 balls and Jennson Poyah (partial vision), who made 75 in 54 balls.
Chasing a modest target (214), England hit 217 runs for three wickets in 16.4 overs, with its Andy Powers (partial vision) hitting a scintillating 122 in 55 balls to become man of the match.
In the other last tie on the same ground, the Sri Lankans mauled Bangladesh by 243 runs, clobbering their weak bowling to pile up a massive 360 runs for three wickets in the stipulated 20 overs and restricting the latter to 112 for seven wickets in 20 overs.
Sri Lankan batter Madhusanka Lemamge (partially blind) pulverised the Bangladesh bowlers to smash 138 runs in 68 balls, while dashing P. Saman Kumara (totally blind) hit a breezy 91 off 21 balls. Lemamge was declared man of the match.
Of the nine countries, Australia, Bangladesh, Nepal, South Africa and Windies were knocked out of the semis.
Punters are betting on India and Pakistan to cruise the semis for a cracker of a final Thursday at the Central College ground.