India voted favourites to win global cricket tournament
2.12K //
13 Mar 2015, 11:44 IST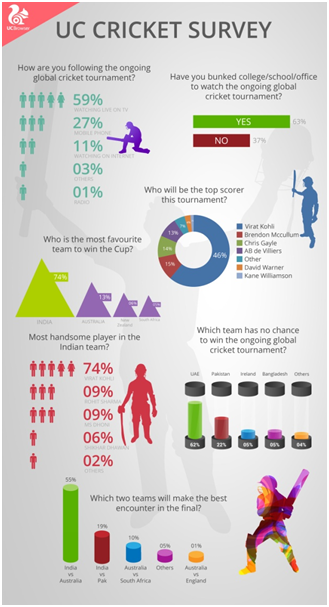 New Delhi, March 12, 2015. Team India will reclaim the 'World Champions' title, according to a recently concluded online survey by leading mobile browser UC Browser, India's number one mobile browser with over 40% market share by the end of 2014 as per StatCounter. The findings, based on over 10,000 responses from across the country, reveal that India's back-to-back wins have improved the scenario with close to 74% respondents favouring India as champions. Australia remains the second most favourite team with 55% participants saying India versus Australia will make the best encounter for the final. In an interesting revelation, the poll showed that over 27% people are tuning into the matches on their mobile phones and through cricket apps.
44% of the people who voted said Virat Kohli will be the top scorer for the tournament with the opening game century against Pakistan setting the right tone. AB de Villiers and Chris Gayle come in at a close second. Bowling remains a worry with 73% respondents saying Indian bowling attack is weaker than before. Ireland continues to enthral fans with its performance with majority of participants saying the team can pull off more upsets as it remains in quarterfinal contention.
Commenting on the survey findings, Kenny Ye, Managing Director, UCWeb India says, "During the ongoing cricket tournament, UC Browser has provided comprehensive content and services via in-app feature UC Cricket, allowing millions of enthusiastic cricket fans to quickly and conveniently access the most complete and up-to-date cricket information including live scores, text broadcast, stats, photos, videos, schedules and more. The huge traffic generated by these users allowed us to analyse the sports fever that has swept the country."
Almost 65% respondents said they are likely to skip work/college at least 2-3 times during the matches as India enters the all-important knockout stages.
About UCWeb
UCWeb Inc. (UCWeb), an Alibaba Group company, is a leading provider of mobile internet software and services. Since its inception in 2004, UCWeb's mission has been to provide better mobile internet experience to people around the world. The flagship product of UCWeb, UC Browser, is available on more than 3,000 different models of mobile devices from over 200 manufacturers, and is compatible with all mainstream operating systems. Serving users in more than 150 countries and regions around the world, UC Browser is now available in 11 languages including English, Russian, Indonesian, and Vietnamese. Additional information about UCWeb and UC Browser can be found at www.ucweb.com.